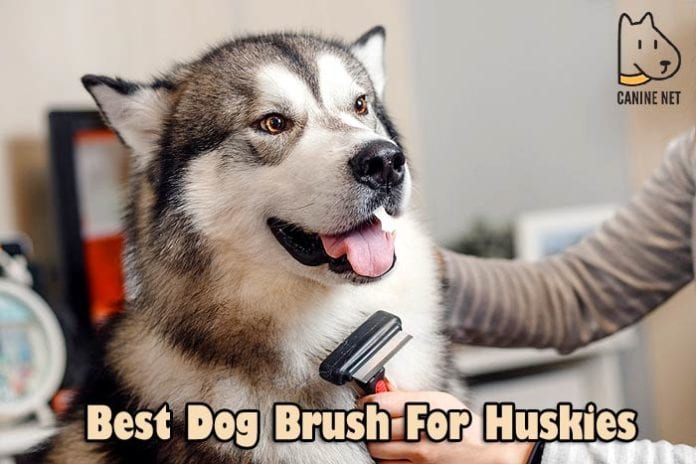 Finding the best dog brush for your husky puppy is not as easy as it may seem. Huskies are known for shedding more than other breeds, which is why you need a perfect brush to maintain the health of their fur.
Sale
Best Dog Brush For Huskies
Our Pick
Our top pick for the best dog brush for huskies is the Professional grooming tool from GoPets, which seems to be the most efficient one ticking all boxes.
We ♥ honesty! Canine Net earns a commission through the following hand-picked links at no extra cost to you.
These dogs are some of the most cheerful and playful ones, but they shed even outside the coat-blowing times. And if you don't want your home to be covered in dog hair, you will need a brush to use regularly.
This is important for your dog's health as well, so let's find the best dog brush for your husky buddy!
Let's find the most efficient brush to take care of your husky's hair!
Best Dog Brush For Huskies – Comparison Table
What Kind of Brush Do Huskies Need?
Since Huskies have a lot of furs, you will need a brush for breeds with long hair.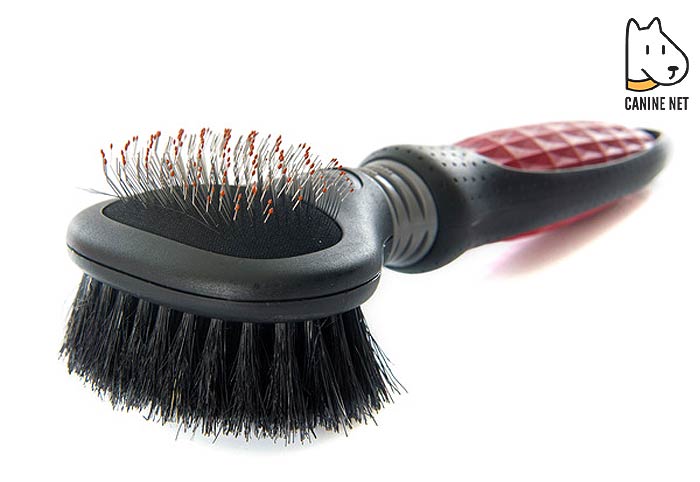 These brushes have many teeth to get through all the layers of hair. At the same time, you might need an undercoat rake or a comb.
Avoid any brushes with rare teeth, as they will not get the fur off your husky when you use them.
They will not be as pleasant to use either, so your puppy might not enjoy the brushing process as they should.
Suggested Reading:

Should You Use A Furminator On A Husky?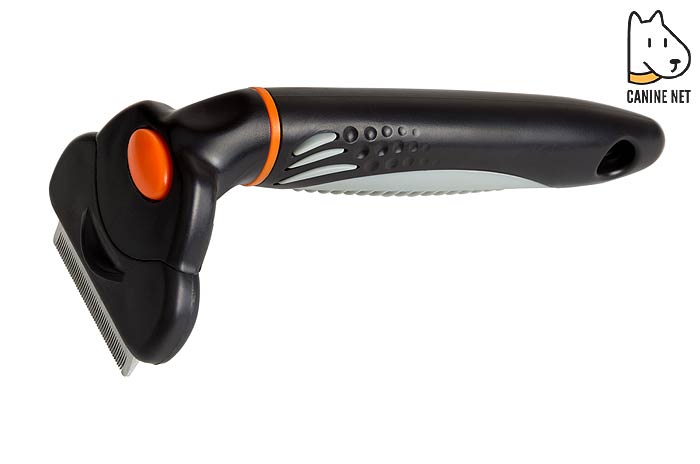 Furminators are not the best options for huskies, so you will have to keep looking at other types of brushes. While furminators are suitable for long hair breeds, husky will not subscribe entirely to this category.
Furminator is a popular brushes brand that works great for some breeds. However, it is not perfect for a husky. The main reason it might not work for huskies is that it can damage your puppy's topcoat.
If you want to remove dead fur from your puppy, you might want to stick to an undercoat rake as these are the most efficient.
The classic Furminator for Husky might be too sharp, which will not work to safely get through the topcoat.
There are ways to use a Furminator the right way on a husky, but only specialists seem to know how to do that.
It takes practice and patience, so you don't cut off parts of the topcoat. If you are a beginner at de-shedding your dog with a Furminator, you might want to skip this classic model.
Suggested Reading:

How do you stop a husky from shedding?
If you are one of the proud owners of a husky dog, you are most likely wondering if you can get the shedding under control. Luckily, there are a few things you can do to manage this well-known problem that huskies have.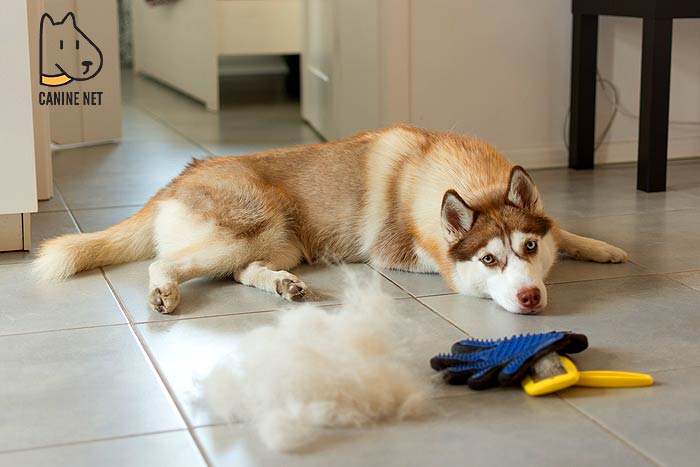 Suggested Reading:
You will not be able to stop shedding altogether, but you will keep it under control better!
A) Don't cut their fur
It is essential to never shave or cut your dog's fur. Doing this will not stop your dog from shedding at all.
It might delay the process, but you will run into the same problem once their fur grows back.
Plus, shaving your dog will also affect their body temperature, which is dangerous for their health.

B) Brush them regularly
A great thing to do to keep the shedding under control is regular brushing with a brush that works for your husky dog.
Ideally, you should brush your puppy about two to three times a week. But you can brush them even more often if you feel like you need to do that.
Be careful, though, to not brush them too often because you could irritate their skin.

C) Give your puppy regular baths
Your dog's hygiene will also keep excessive shedding away. There are even anti-shedding shampoos that you could use, and some of them could actually be quite efficient.
Even if husky dogs tend to have naturally clean coats that don't produce as much oil as other breeds, you should still wash them once a month during shedding season.
Outside the shedding season, you can reduce the bathing routine at once every 2 months. Observe how your dog feels and how their fur looks like to decide on the best bathing routine.
However, if your dog gets dirty from playing outside, you should clean them as soon as possible.

D) Make sure they have a healthy lifestyle
When it comes to shedding and reducing it, your dog's nutrition and overall lifestyle are significant factors.
The way your dog's coat looks is directly influenced by their diet. If your dog suffers from different allergies, it will shed more.
Simultaneously, if they don't receive enough nutrients, the shedding will be more of a problem.
Huskies are sensitive dogs, too, so you can't get away with feeding them anything. They need Omega 3 fatty acids in their diet to have healthy skin and fur.
If you are not sure about the type of food your puppy needs, you can talk to the vet and make the best decision.
Suggested Reading:

Can I brush my husky every day?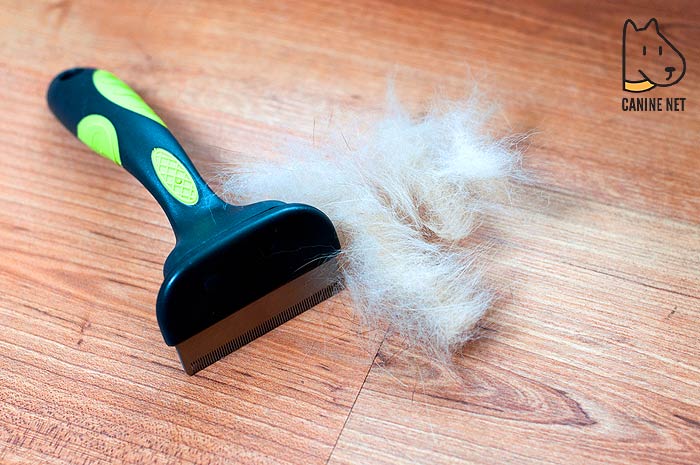 Brushing your husky daily is not a good idea. Even if you use the right brush for their fur, you might irritate their skin and disturb their natural fur oil.
Plus, brushing them daily will not reduce shedding at all. It will just stress them out and damage the balance of their skin and their overall well-being.
Stick to a brushing routine twice or three times a week and try to do it on the same days. That way, you can keep track of it. This is the ideal brushing frequency for your husky dog.
Suggested Reading:

What to look for?
If you never purchased a brush for your husky, you might wonder how you can get the best option on the market. There are a few things to consider in the process, and you will not waste your money.
A) The material of the brush
The material of your dog brush is one of the most important aspects to consider.
You want a brush made of rust-free materials like stainless steel to use for as long as possible.
The type of handle it has is also essential. Ensure the handle is sturdy and comfortable to the touch since you would be holding it a lot.

B) Ergonomic design
The ergonomic design of the brush is equally important.
Go for a dog brush that follows the anatomy of your hand so you can use it easily.
If the brush doesn't come in an ergonomic design, you will lack comfort as you are using it.
As a result, your dog will not enjoy the brushing sessions as much, and you will develop hand aches after using the brush.

C) Secure Grip
The type of grip your dog brush has is going to make a difference between comfortable and uncomfortable brushing as well.
You want a dog brush with a secure grip that will not slip off your hand as you are using it.
The silicone gel grips tend to work best for all types of brushing.

D) Simple or dual brushes
The market offers simple brushes with one set of teeth or dual brushes with two sets of teeth.
If you want to brush both the topcoat and your dog's undercoat, you will love the dual brushes.
However, if you want to brush them topcoat, you can get away with a simple brush with long bristles or teeth.

Best dog brush for huskies
Here are the top 5 best dog brushes for huskies on the market today:
1. Pet Grooming Brush
The first brush you can use on your husky comes from Pet Neat. You will find this brush very efficient and easy to use on your puppy regardless of their age.
This brush will remove up to 95% of dead fur as long as you use it regularly. All you have to do is use it for 10 minutes, and you will notice a difference.
It is a brush made of stainless steel so it will last you a long time. You can count on it for comfortable brushing sessions every time.
The handle of this brush is ergonomic and comfortable to use, so you don't struggle during brushing sessions. It is made to accommodate your hand's anatomy and help you make the most out of this product.
You can use this shedding tool for huskies but also for other breeds in a safe way.
Unfortunately, you can't choose this brush in different colors, but it comes in a great blue shade with black parts.
Pros
Ideal for all types of dogs.
Ergonomic handle
Easy to use
Resistant design
Removes 95% of dead fur.
Cons
You can't find it in different colors.
The sharpness of it might get dull in some months.
Check Price on Amazon

2. Hertzko Self Cleaning Slicker Brush
Another brush that you will love to use on your husky is this Hertzko model. It comes with great features and increases the comfort for both you and your puppy.
This brush's rectangular shape makes it easier to cover more fur at a time, so you will not spend so much time brushing your dog.
You can use this best slicker brush for husky to remove everything from dirt to dead fur, knots, and even dander from your husky dog.
A great thing about this brush is that it will work for most breeds as long as you use it correctly.
Thanks to the quality bristles, this brush will not hurt your puppy's skin, but it will penetrate their undercoat just fine.
You can clean this brush very easy too. It comes with a button that retracts the bristles so you can remove the hair you got on it. In just a few seconds, you will have a dog brush that looks new.
The anti-slip handle makes using this brush very comfortable. You will have an excellent grip every time, and brushing will work smoothly.
Pros
Retractable bristles
Anti-slip handle
Gets rid of dirt, dander, and dead fur.
Works for most breeds.
Protects your dog's skin.
Cons
It comes in only one design.
Might be uncomfortable to use on small pets.
Check Price on Amazon

3. GoPets Self-Cleaning Grooming Comb
This is one of the best dog brushes you can find for many reasons. It will ease your brushing sessions and even convert them into something pleasant.
This best brush for Husky German Shepherd mix is a professional dog brush that will not disappoint you every time you use it. It comes with better qualities than other average brushes.
You can use this brush to eliminate knots in your dog's fur, dead hair, dander, and dirt, and it will not damage their skin at all. Your pet will love this brush, and they will look forward to you using it.
You can use this brush on both your dog and cat with no side effects. It will not hurt their skin even if you use it regularly, so you can count on this product at all times.
This dog brush comes with a secure grip that allows you many comforts as you are using it. The silicone gel grip allows you to rely on this brush any time you need to take care of your dog's fur.
You can successfully use this brush even on dogs with thick coats to get four-inch-deep in the hair layer.
Pros
Professional brush
Made for thick coats.
Ergonomic design
Easy to use
Silicone gel grip
Cons
More difficult to use on short hair dogs.
Not the best brush for cats.
Check Price on Amazon

4. Pet Grooming Tool
This pet grooming brush will not disappoint you either as it is easy to use and very efficient.
This brush's design is an excellent combination of black and blue, which makes it very attractive. You can't find it in other color combinations, but chances are that you will love this combo as it is very modern.
This brush has a nine teeth side and a 17 teeth side. You can use them accordingly to how long or short your dog's hair is.
As you use this brush, you don't have to worry about your pet's safety at all. It will not damage their skin, and it will not scratch them either.
It offers your dog a skin massage too, which will improve their blood circulation and overall well-being.
The anti-slip grip makes it easier for you to use this brush. Plus, it comes with an ergonomic design that you will love as well.
The stainless-steel teeth will last you a long time, so you will not have to worry about maintaining this brush in any complicated way.
Pros
Anti-slip handle
Two sets of teeth.
Massages your dog's skin.
Safe for all breeds.
Stainless steel teeth
Cons
More difficult to clean than other brushes.
Not recommended for removing knots.
Check Price on Amazon

5. GoPets Dematting Comb
The last but just as efficient as the rest of them is this brush from GoPets. You can rely on this brush to get rid of your dog's dead fur, knots, and dander any time you need to groom them.
You will see positive results after using this brush on your dog for just a few minutes. It leaves their coat smooth and rejuvenated with no hassle. And they will love it too!
This brush comes with two sets of teeth too. You can use them according to the problems your dog has, as well as the type of fur they have.
You can use this brush to comb the top coat of your pet as well as the undercoat. Even if it is ideal for huskies, you can still use it on different breeds in a successful manner.
This brush comes with a nonslip silicone gel grip so you can feel comfortable holding it at all times. It has an ergonomic design that makes it easy to use and very efficient as well.
Plus, you will not have to worry about hurting your pet in any way. This brush is gentle with their skin and will give them a good massage while brushing them.
Pros
Sensitive with the dog's skin.
Two sides of teeth.
Ergonomic handle
Anti-slip design
Perfect for all types of furs.
Cons
The handle might not be as resistant as other brushes.
Not so efficient at dematting.
Check Price on Amazon

Sale
Top-Rated Dog Brush For Huskies
Our Pick
Even if all our brushes can succeed at keeping shedding under control, the Professional grooming tool from GoPets seems to be the most efficient one.
By using this dog brush, you will notice a difference after only 10 minutes of grooming. Your dog's fur will look neater and feel smoother to the touch.
It is one of the professional grooming tools that even your vet will recommend to use on your husky.
You can use this brush to remove knots and mats easily and leave your dog with healthy fur every time you groom them.
This brush is also ideal for both your dog and cat as it can accommodate different types of furs.
Taking care of your pet's fur should be one of your main priorities if you want a healthy dog or cat. This is even more important for huskies as they are notorious when it comes to shedding problems.
If you purchase the best dog brush, however, you will reduce a lot of this issue. Your husky will be happy and look healthy with a smooth coat that you will love to pat.

Key References
"Is The FURminator Good or Bad For Huskies? Our Honest Review – My Happy Husky". Accessed November 25, 2020. Link.
"Dog grooming tips | Animal Humane Society". Accessed November 25, 2020. Link.