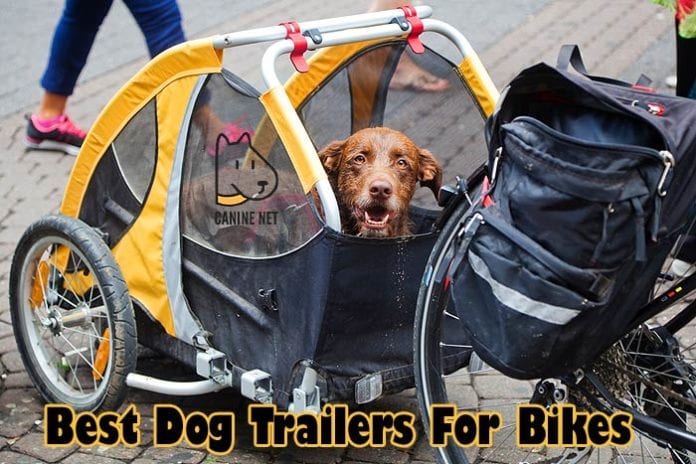 If you like to go for a ride every now and then and want to bring your furry friend with you, a dog trailer for bikes is a must. Such a trailer will allow you to bring your dog to your park rides or even on longer trips.
Best Dog Trailers For Bikes
Our Pick
If we need to choose one bike trailer for your dog, this Burley trailer would be the best product. It is spacious enough to offer your dog comfort but also safe and waterproof to secure them during any bike ride.
We ♥ honesty! Canine Net earns a commission through the following hand-picked links at no extra cost to you.
We put together a complete guide on how to choose the best dog trailer for bikes. You will find the most useful tips for such a purchase and the best gears on the market. So, without further due, let's dive in and help you find the dog trailer for bikes both you and your dog will love!
Best Dog Trailers For Bikes – Comparison Table

How much weight can a dog bike trailer handle?
You will find different dog bike trailers on the market, and they come with various weight capacities. It is essential to know your dog or dogs' size and weight to decide which size of trailer you need.
Some trailers can safely hold dogs up to 130 pounds. Some trailers can be converted into strollers which might reduce the weight they can hold. But as each product is different, you will have to carefully check its description before purchasing.
The manufacturer will specify how much weight the trailer can hold and what dog breeds are intended.
Suggested Reading:

Why Use a Bike Trailer for Your Dog?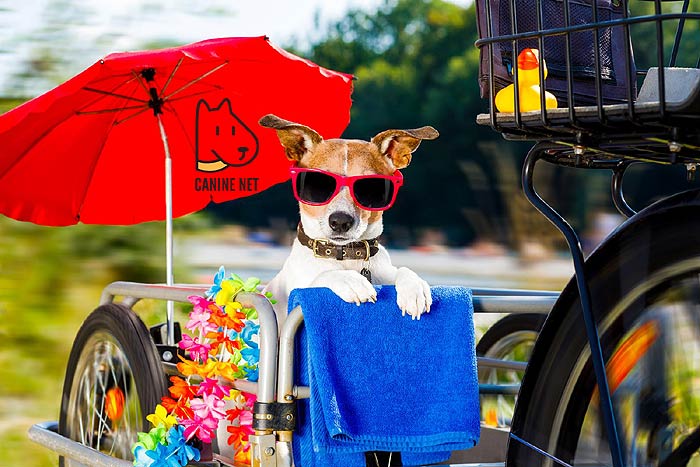 Using a bike trailer for your dog is, in the first place, safer than having your dog run along as you pedal. Small dogs or older dogs will not be able to keep up with your bike speed. Even if you try to ride your bike at a reduced speed, your puppy will still struggle to run along.
Besides safety, you will also have to consider your pet's comfort. Your dog might enjoy a few minutes of running but at its own pace. Chances are that they will not feel comfortable running for a long time to keep up with your pedaling.
Such a bike trailer is ideal for disabled dogs as well. If you don't have a car or simply want to give your dog a nice time outdoors, a bike trailer could be convenient.
You will also be able to enjoy your bike rides much more. If you tie your dog to your bike as you are pedaling, you will worry for them all the time. This will take away from the excellent time you have riding your bike!
Suggested Reading:

How does the dog bike trailer work?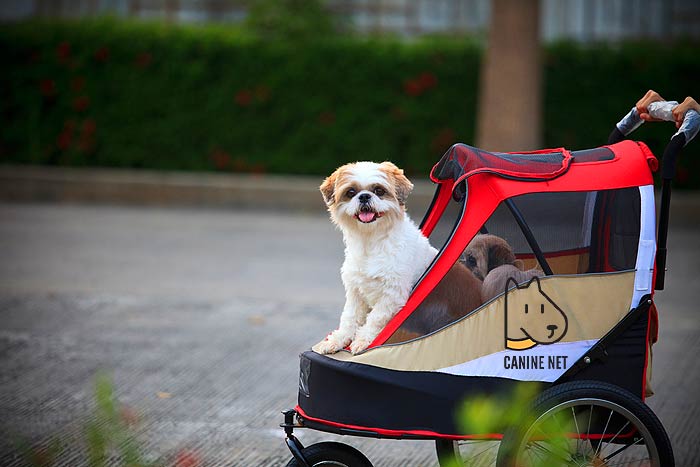 If you never used a bike trailer for your dog before, you will naturally wonder how it works. The concept of such a product is straightforward. The trailer is a compartment on wheels that you attach to your bike. It works by the same system you would attach a trailer to your car.
There are different types of bike trailers, made of different materials and with various attachment systems. Some of them will be able to carry larger dogs, while others are suitable for smaller breeds. Also, the design of the trailer might vary from a model to another. We will address all the aspects to consider when you invest in a bike trailer for your dog as it follows.

Do dogs like bike trailers?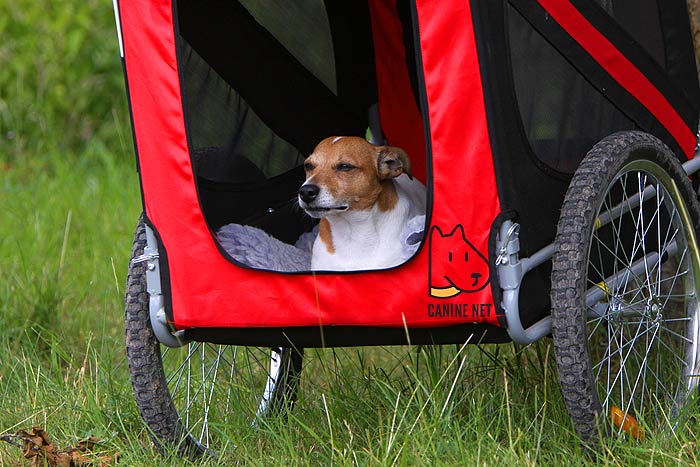 Dogs tend to love to join their owners everywhere they can. They also love to spend time outdoors. So, a bike trailer is definitely an excellent investment for your dog. They will love to join you when you ride your bike to the park. You can give them a nice time on the way to the vet as well. Or you can bring your dog with you as you are going to enjoy a picnic outdoors. Either way, dogs love bike trailers because they will not have to run next to the bike, which can be exhausted.
Suggested Reading:

Is it illegal to ride a bike with your dog?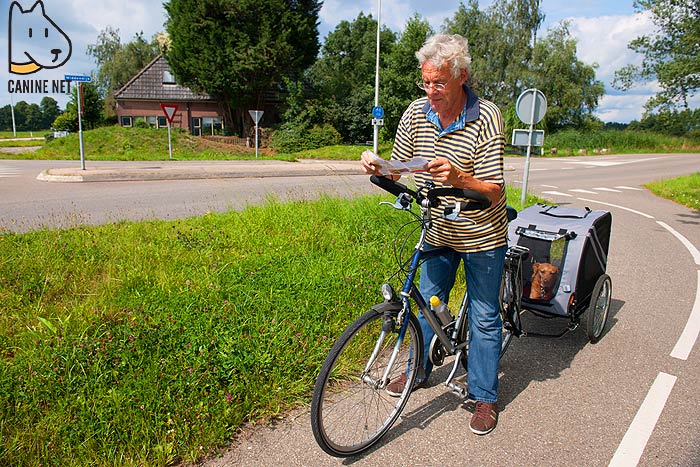 When it comes to the legislation regarding riding a bike with your dog, this depends from a country to another. There are laws regarding animal cruelty that you have to be aware of.
Most animal cruelty laws imply that you should avoid tying your dog to the bike as you are pedaling. This is not safe for either your pet or yourself. So, actually, bringing your dog with you in a bike trailer is the best option for legal reasons as well. Using a bike trailer for your dog is not only legal but also much safer than any other option.
Suggested Reading:

How do I connect my bike trailer to my bike?
Connecting your bike trailer is usually relatively easy. All products should come with proper instructions. You will need a coupler or a hitch that will attach the trailer to the bike in most cases.
You will have to make sure that the trailer is compatible with the bike size, so it is essential to check the product's description for such specifications. You will also attach the trailer to the seat of the bike, which is why it is important to find a trailer compatible with your bike size.
Suggested Reading:

Can I put my dog in a child bike trailer?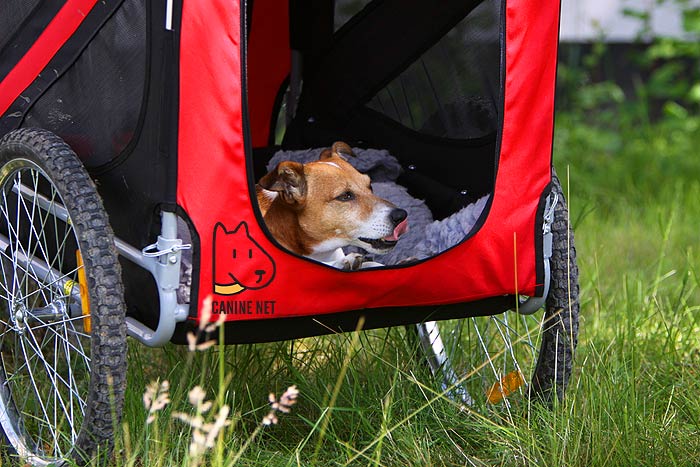 Ideally, your child and your dog should have separate bike trailers. The system of these two types of trailers is the same, but the details make all the difference.
You will notice that dog trailers have separate compartments than child trailers. These trailers are made with your dog's needs in mind. Most of them have extra pockets created for your dog's accessories, and they have extra windows that allow your dog to breathe and feel the breeze.
On the other hand, child trailers tend to be more compact. Unlike a dog, you can't secure the child with a leash inside the trailer. So, the windows and the door of the trailer will be smaller and less accessible.
Due to this aspect, your dog might not have the comfort they need in a child trailer, and they will lack safety as well. So, it will be much better to invest in a specific trailer for your dog rather than use your child's trailer.

What to look for?
If you never invested in a bike trailer for your dog, there are several aspects you need to pay attention to before pulling your credit card out.
A) Frame material
The frame material is essential in terms of durability. You want a trailer that will last you for as much as possible, and a sturdy frame is vital in this aspect. You can find these trailers with iron, steel, steel alloy, or aluminum frames. The aluminum frames are ideas as they are lightweight, so if you want to travel with your trailer, this will be an important feature. But in terms of durability, steel frames win the stage.

B) Waterproof mesh
Choosing a trailer that will offer your dog protection on rainy days is important. Waterproof trailers can save you a lot of trouble in case rain starts out of the blue. Plus, your dog will be more than grateful for such a feature, so it is crucial to not neglect it.

C) Weight capacity
It is crucial to choose a trailer that will hold the weight of your dog. Each product comes with a weight limit. If your dog is heavier than the trailer's maximum weight, you will not be able to use it.

D) Storage
Some trailers come with extra pockets for dog treats, toys, and other accessories. Plus, you want to look at the storage system and how compact your dog's trailer is. The wheels should be removable, so your trailer takes less space when you don't use it.

Best dog trailers for bikes
The following bike trailers are ideal for both you and your pet. They are safe and easy to use, which reduces risks and hassle significantly.
1. Schwinn Rascal Bike Pet Trailer Review
The first pet trailer that will work great for your bike comes from Schwinn, and it is one of the best investments you will make.
You will love the fact that you can choose between three different colors according to what goes best with your bike design too.
The frame material of this Schwinn rascal plus bike trailer for dogs is resistant steel that will last you for a long time.
Packing and storing this item will be very easy too. It has a foldable design, and the wheels are easy to release too. You can bring this with you as you travel with no problem.
The coupler system makes it easy to attach this trailer to most types of bikes. You can also use any standard bike pump to inflate the wheels, so no additional investment is needed.
Plus, this trailer comes with a doggy door, so your pet can get in and out with no problem. The bug screen is also adjustable to offer your pet more comfortable.
If you are concerned about your dog's safety, this trailer comes with an interior leash to make sure they never escape it.
You can find it in two different sizes as well. One small size for dogs with a maximum weight of 50 lbs and one big size for dogs with 100 lbs.
Pros
Compact design
Three different colors
Two sizes
Compatible with most bikes.
Interior leash
Cons
The material might not be as resistant as expected.
Not waterproof
Check Price on Amazon

2. PetSafe Happy Ride Steel Dog Bike Trailer Review
This PetSafe dog bike trailer is also a great option if you want to bring your furry friend with you everywhere you go.
You can get it in a medium or large size according to the dog breed you have. The blue color of this trailer makes it suitable for all types of bikes as well.
The durable steel material makes this trailer very reliable. You can use it for a long time with proper maintenance.
The trailer comes with windows to give your dog the possibility to get a fresh air breeze whenever they want.
There is a tether inside the trailer, so your dog will not be able to escape even when they might be tempted to try.
It is effortless to connect the trailer to almost any type of bike with a Shimano gear set. It comes with a hitch, and you can disconnect it as soon as your bike ride is over.
Storing this trailer will not be a problem either. Its design allows the trailer to collapse in a compact form that is easy to store.
The trailer comes with storage pockets so you can bring snacks, water, and toys for your pet.
Pros
Easy to connect to a bike.
Extra pockets
Folds in a compact form.
Ventilation windows
Different sizes available
Cons
Only one color available.
Not compatible with all bikes.
Check Price on Amazon

3. Burley Design Tail Wagon Bike Trailer Review
Another trailer that will work great when you want to bring your dog on your bike rides is this Burley model.
The aluminum frame of this trailer is ideal in terms of durability, but it is also lightweight. The entire trailer comes with a weight of 19.4 lbs.
The removable floor of this trailer makes it easy to clean and secure as well. This offers a lot more stability to the trailer, along with the side battens.
The cover of this trailer is appropriate for all types of weather. The zippers are waterproof, so you can count on this trailer even when it rains.
This trailer's capacity is 75 lbs, so it will work great for dogs that come with weight within this limit.
This Burley dog trailer will fold nicely in a compact form, and you can also convert it into a stroller.
Pros
Easy to fold
Waterproof zippers
Generous capacity
Extra stability features
Removable floor
Cons
Only one size available.
One-color available
Check Price on Amazon

4. 2-in-1 Dog Stroller and Bike Pet Trailer Review
An exciting bike trailer that can also become a stroller for your pet comes from the Ibiyaya store.
You can choose between three types of colors: a beautiful latte shade, ocean blue, and red.
The maximum weight supported by this trailer is 50 lbs, so it is ideal for small dogs and even some medium ones.
You can trust the alloy steel frame as it will last for a long time as long as you maintain it properly.
This trailer comes with rain and wind protection as well as a large front door. Your dog will be comfortable and safe at all times in this trailer.
The product's total weight is 29.5 lbs, and you can fold it quickly to take it with you anywhere you want.
Pros
Trailer and stroller
Allow steel frame
Different colors available
Rain and wind protection.
Great ventilation system
Cons
There are no different sizes available.
More difficult to connect it to the bike.
Check Price on Amazon

5. Retrospec Rover Waggin Pet Bike Trailer Review
If you are looking for a small or medium-size dog trailer, this product from the Retrospec store might be just what you need.
There is an efficient mesh that will protect your dog against bugs while they enjoy the bike ride.
You will have no struggle removing the wheels and folding the frame so you can transport it with you everywhere you go.
To inflate the tires, all you need is a basic bike pump, but you have to make sure you don't pump too much air in them.
This trailer is compatible with almost all bikes with wheels from 20″ to 29" as long as they have a coupler.
The internal leash will keep your dog safe and prevent them from escaping or falling off the trailer during your bike ride.
You can bring treats and toys with you in the attached pockets of this trailer.
Pros
Easy to fold it into a compact size.
Perfect for small to medium dogs.
Extra storage pockets
Internal leash for extra security.
Mesh to protect against bugs and insects.
Cons
Not compatible with all types of bikes.
It only comes in one size.
Check Price on Amazon

6. Petbobi Dog Stroller Review
The last but definitely not the least product that will make you enjoy your walks along with your fuzzy friend is this trailer from Petbobi.
This trailer's frame is sturdy iron material, so you can count on it for the long run.
This trailer can hold a weight of up to 120 lbs. Thanks to this capacity, you can use it to transport a large dog or two medium ones.
You can convert this trailer into a stroller which makes it that much more functional.
The grey color and modern design increase the aesthetic quality of this product. It is not only very functional, but it is also going to look very good attached to your bike.
There is a storage space that you can use to bring accessories for your dog while you are on the go.
The four wheels offer you more mobility as you use this trailer as a stroller for your dogs.
The mesh material is both breathable and waterproof. So, you can use this stroller to walk your dogs even on rainy or windy days, and they will have the best comfort.
Ventilation will not be a problem with this stroller, and all insects will be kept away from your dogs.
Pros
Perfect stroller for two dogs or one large dog.
Easy to clean
Extra storage for dog's accessories and treats.
Waterproof mesh
Breathable material
Cons
Only one design available.
Not recommended for bikes.
Check Price on Amazon

Frequently Asked Questions
Q: Can I use a bike trailer for more than one dog?
A: If the weight capacity of the trailer supports two dogs, you can definitely do that. However, you will notice that the manufacturer will specify in the description if the product is suitable for more than one dog.

Q: Should I use the child trailer for my dog?
A: Using your child trailer as a dog trailer might not be a good idea in the long run. These two trailers are made different and with different requirements in mind. So, you should definitely invest in a separate trailer for your dog.

Q: What frame material is best for the dog bike trailer?
A: You will find these trailers in different frames. You can choose between a steel one and an aluminum one if you look for comfort and durability. These two types of frames tend to be the most popular as they are lightweight and rust-resistant.

Top-Rated Dog Trailers For Bikes
Our Pick
We selected the Burley tail wagon bike trailer for several reasons.
The waterproof zippers will offer your dog more comfort in case the rain starts all of a sudden.
We love the design of this trailer, and we think it will look great attached to any type of bike.
Since it is lightweight, you will have no problem bringing this trailer with you everywhere you want with no struggle.
The removable floor of this trailer makes it that much easier to clean and increases its stability.
Investing in a bike trailer for your dog will increase both of you's comfort during bike rides. You can count on all the products in this guide, and your pet will be thankful for your purchase. It is essential to always put your furry friend's safety first and make sure they enjoy your bike ride as much as you do.

Key References
"Dog walking – the health benefits – Better Health Channel". Accessed March 10, 2021. Link.