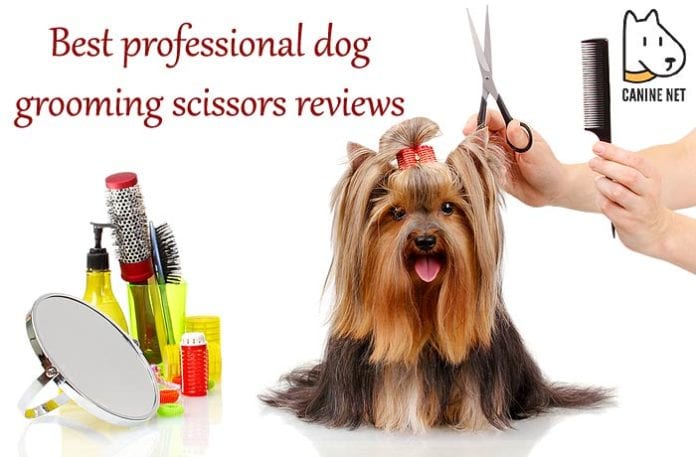 If you want to groom your dog like a pro, you will need the best grooming scissors on the market. With the right grooming tools, you will not have to take your dog to the vet when they need some grooming, and you can even have some fun taking care of it yourself.
We ♥ honesty! Canine Net earns a commission through the following hand-picked links at no extra cost to you.
To help you find the best grooming scissors for your puppy, we put together a detailed guide and a great selection of products. So, keep on reading to identify the best scissors to use on your puppy!
Best Professional Dog Grooming Scissors – Comparison Table
Material
Stainless steel, titanium
Stainless steel, titanium
Color
Purple, black, blue, gold, multi-colored, pink
Types of dog grooming scissors
The market offers different types of dog grooming scissors according to your puppy's fur and the breed they are. The type of grooming you need to do will also determine what tools you use.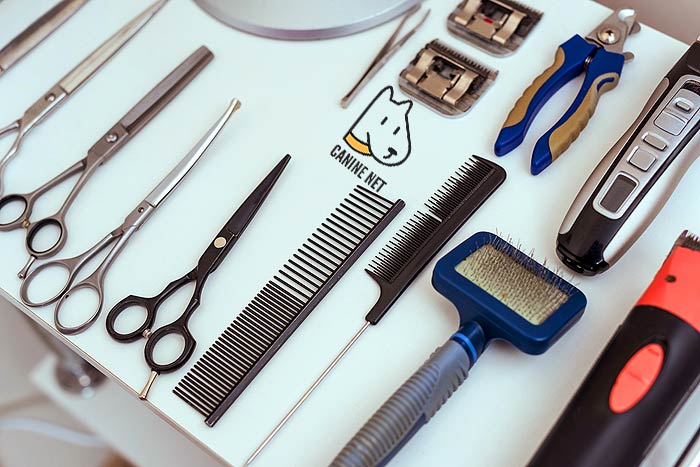 A) Straight scissors
The straight grooming scissors are great for grooming all parts of your dog's body. They are also the most common type, as you can get away with using just these scissors. You can use them for all breeds, but they are essential for dogs with long coats.

B) Thinning scissors
Thinning scissors are intended to remove small parts of hair at once. You will want to use thinning scissors if your dog has thicker hair that is not very long. With these scissors, you can thin their coat and make it easier to maintain and manage.

C) Curved scissors
The last type of grooming scissors is curved scissors. The curved scissors will work great for delicate areas such as ears, paws, tail. They help you groom your pet correctly without hurting them or exposing them to any risk.

How often should Dog Grooming Scissors be cleaned?
The maintenance of your grooming scissors will determine how long you can rely on them. Maintaining your dog's grooming scissors clean is vital for your pet's health as well.
Ideally, it would be best if you cleaned your grooming scissors after every time you use them. By doing so, you avoid rust development, and you protect the excellent condition of their blade. When you clean the grooming scissors, all you need to use is water and soap. Please do not wash them in the dishwasher unless you are entirely sure that this manner of cleaning will not damage your scissors.
Suggested Reading:

Is there a difference between human and dog clippers?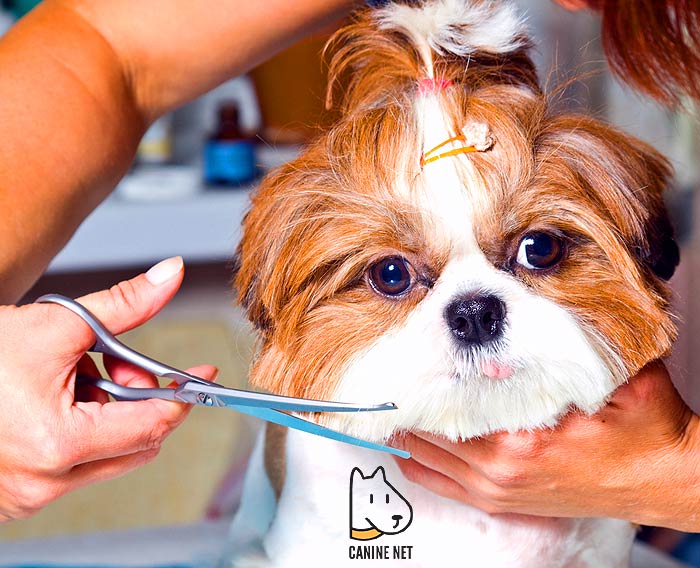 Since your dog will also need clippers, you might wonder if you can use your clippers. The truth is that there are clippers made, especially for dogs, for a reason, so you don't have to use yours to groom them.
If you pay attention to details, you will notice that dog clippers have a different blade than human clippers. The clippers intended for your pet are made not to pull their hair as you use them. Pet clippers also have different blades according to different fur needs. Some are smaller for shorter furs, while others are bigger for longer fur.
Pet clippers are made for topcoats, undercoats, and even wool. In comparison, human clippers are only made for one type of hair. There are also pet clippers for fast grooming and pet clippers for slower grooming. The lower speed clippers will be great for the sensitive areas of your pet's body, such as their ears or face.
Suggested Reading:

Should you cut dog's hair wet or dry?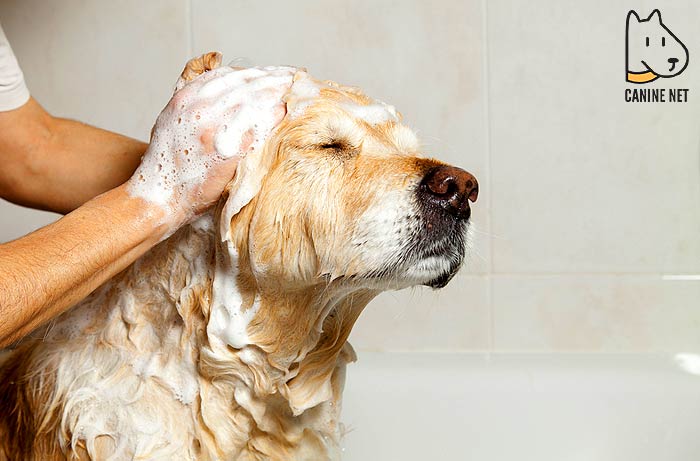 Another common question that dog owners have is should they groom their pet while their fur is wet or dry. You might think that if you can cut your hair when it is wet, you can do the same to your dog. But this is not the case. You should always clean and dry your pet's hair before trying to groom it. It is also important to brush their hair before you start trimming it. Doing so will help you find the best trimming method, and your dog will also feel more comfortable in the process.

Do dogs feel better after grooming?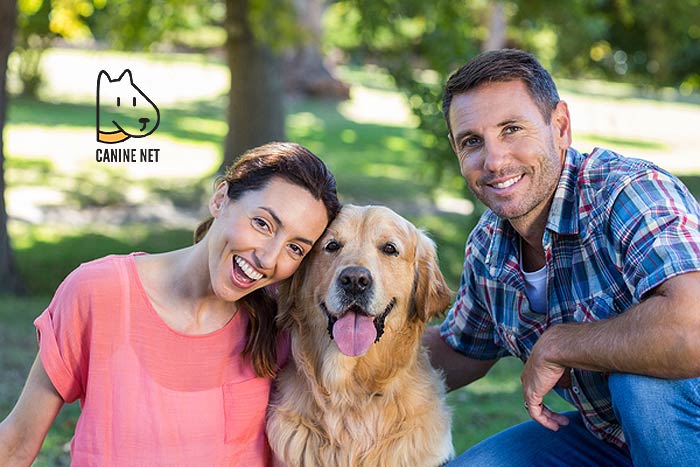 Grooming your pet has plenty of benefits for them. Some dogs enjoy the trimming process, while others might have problems staying still when you try to groom them. But ultimately, they all feel much better by the time you are done grooming them.
Not only that their fur will look better and feel smoother to the touch, but your puppy will also love the way they feel. Grooming is a form of comfort, and it always brings happiness to your pet. Plus, grooming them regularly will empower the bond between you two, and they will start trusting you more for taking care of them.

What to look for?
When you are grooming your dog, the tools you are using are essential. If your scissors or clippers are not high-quality ones, you will not be able to trim your dog's hair well and safely. Here are the main aspects you should consider when you are choosing the best professional dog grooming scissors!
A) The size of the scissors
Grooming scissors come in different sizes to accommodate different dogs. If you have a shorter dog, you will need a small pair of scissors. Likewise, if you have a much larger dog, you will need bigger scissors to groom them better and faster. You will find plenty of scissors on the market that come in different sizes and shapes.

B) Material
When it comes to choosing the best scissors for grooming your dog, you will want to pay attention to the material they are made of as well. The best scissors have stainless steel blades that are resistant to rust, and they will be very durable. As for the handles, you can find them padded with rubber or other materials to increase the scissors' ergonomic comfort.

C) Type of scissors
Depending on the type of grooming, you can choose a straight pair of scissors, a thinning pair of scissors, or a curved pair of scissors. All of them fulfill a different purpose, and most likely, you will need a complete set that comes with one of each. There is no type of scissors for each breed, but if you want to use your grooming set for dogs and cats, you should probably consider a small pair of scissors.

Best Professional Dog Grooming Scissors Reviews
Here are the top 7 best professional dog grooming scissors' reviews on the market today:
1.7.0in Titanium Professional Dog Grooming Scissors
One of the best grooming scissors you can use on your puppy is this Kingstar set. It has all the tools you need to groom your furry friend. This kit is ideal for all dog breeds.
Inside the kit, you will find four different pieces to use as grooming your dog at home.
Each piece is made of stainless steel, so you will not have to worry about rust or damaging these tools' condition over time.
The blade of these scissors is sharp with a convex edge that you can rely on. You will not have to cut several times in one spot because it will groom your pet's fur from the first try. No scissors in this grooming kit will clip the hair or be uncomfortable to use on your dog.
Inside the package, you will find one thinning scissors, one upcurved and one down curved scissors, a cleaning cloth, a durable case, and one straight scissors. This pair of scissors is all you need to groom your dog in the comfort of your house.
You will be able to use these scissors very quickly as they come with an ergonomic design so you can hold them with no struggle.
This set comes in a classic black color that will look very elegant in your dog's arsenal of accessories.
Pros
Ergonomic design
Durable stainless-steel material
Kit of 4 scissors.
Won't clip the hair.
Sharp, convex blades
Cons
The sharpness of the blades might get dull over time.
It only comes in one color.
Check Price on Amazon

2.Gimars 4CR Stainless Steel Dog Grooming Scissors Kit
Another scissors kit that will be ideal for grooming your dog comes from Gimars. This kit is also great for all types of dogs, so you can use it with no concerns regardless of the type of fur your pet has.
This set comes with four scissors that will help you groom your dog just how you want to with no hassle or struggle.
All scissors in this set are coated in titanium and made of durable stainless-steel material. You can count on them lasting for a long time with no trouble.
The round tip of all scissors makes them safe and comfortable to use on your dog. There will be no poking or stabbing as you use these scissors.
The ergonomic design of these scissors will make them very easy to grab and hold in your hand. Your hands will not hurt you even if you use these scissors for a longer time.
If your fingers are bigger than the handle of a specific pair of scissors, you can easily remove the finger rings for more space.
You can use this set to trim your pet's fur in any area of their body without taking any risks.
Pros
Ergonomic design for easy usage.
Resistant stainless-steel material
Complete home grooming set.
Safe for your dog.
Finger rings removable
Cons
Only one color available.
Might be uncomfortable to use for bigger hands.
Check Price on Amazon

3.JASON 7″ Multipurpose Dog Grooming Scissors
These grooming scissors will be great if you want to take care of your puppy's grooming needs at home. It comes from Jason, and it has all the features you would expect to find in such scissors. This product is going to work best for dogs with medium to long coats such as huskies.
This pair of scissors will accommodate several grooming needs in one product. You will not have to use different tools for different areas of your pup's body.
The stainless-steel material of these scissors makes them last a long time with minimum maintenance.
You can use this one pair of scissors as a significant thinning shear and as a straight shear or blending shear, depending on the type of fur your dog has.
The convex edge of these scissors will make them very efficient but also very safe to use.
You will appreciate these scissors' ergonomic design and feel very comfortable holding them in your hands.
Pros
One multi-purpose scissors
Works excellent as straight scissors and also thinning scissors.
Simple yet very resistant design.
Made of stainless steel.
Easy to use
Cons
It doesn't come in a set.
Not ideal for all dog breeds.
Check Price on Amazon

4.7.0 inches Professional Dog Grooming Scissors
With this grooming set for dogs from Smithking, you will not have to worry about grooming your furry friend at home. It is the type of grooming set that will work great for all dog breeds.
These scissors are sharp and will remain sharp for a long time as they are evenly polished.
You can count on the fact that these scissors will not clip your puppy's hair, and they will love to have you use them on their coat.
Inside the kit, you will find a straight pair of scissors, a pair of thinner scissors as well as curved scissors, and a case to store your grooming kit safely.
All the scissors in this set are made of a resistant stainless-steel material that you can count on.
You will also receive an adjustable key that will allow you to adjust how tight the scissors should be to accommodate your needs.
Pros
Great ergonomic design
Stainless steel material
Comes with an adjustable key.
Great sharpness level
Perfect for all types of dogs.
Cons
The comb might not be the best for dogs with long coats.
Not all scissors will have the same level of sharpness.
Check Price on Amazon

5.Moontay Professional 7.0/8.0 inches Dog Grooming Scissors
Moontay offers you a professional grooming kit to use right in the comfort of your house. These scissors will be very efficient for dogs with short to medium fur, but you can ultimately use them on all breeds.
You can find these scissors in two different sizes. Choose the 7.0-inch size for dogs with short to medium furs, while you can settle for the 8.0-inch size if your dog has long furs.
This set comes in a selection of six colors such as black, blue, purple, gold, multi-colored, or pink.
You can successfully use this set on dogs and cats as it comes with all the types of scissors you need. There are four scissors, including curved scissors that will allow you to trim the fur around the ears or other difficult to reach areas of your pet's body.
The convex edge makes these scissors comfortable to use and highly functional. They will accommodate all types of grooming with no stress.
The material used for these scissors is stainless steel, so you can count on them lasting for a long time.
Pros
Made of a resistant stainless-steel material.
Comes in six different colors.
Convex edge and sharp blade.
Two sizes available
Four scissors set for both dogs and cats.
Cons
They might not be sharp enough for all types of furs.
Ideal for small hands but not as easy to use by big hands.
Check Price on Amazon

6.Pet Magasin Grooming Scissors Kit
This pet grooming set comes with both scissors and brushes, which makes it even more efficient. It is made especially for dogs and cats with short to medium furs, and it is effortless to use.
Inside this kit, you will find two pairs of scissors to use on your dog's fur. Both of these scissors will work just as fine on cats' fur.
Besides the scissors, this kit also comes with a brush and a comb to keep the shedding under control.
Both scissors in this set have rounded tips, so your pet will not be exposed to any hazards as you are using them. You don't risk to poke or stab your pet while you groom them at home.
You can use the brush and comb to remove the loose undercoat in just a matter of minutes. Doing so will also stimulate blood circulation, and your pet will love it.
You can find this complete grooming set in one selection of colors: green scissors and black and green brushes. It will also last you a long time with proper use, thanks to the sturdy materials used to create each piece of this set.
Pros
It comes with both scissors and brushes.
Resistant materials
Perfect for both cats and dogs.
Sharp blades
Easy to use even by beginners.
Cons
Not recommended for dogs with long fur.
Not as many pieces as other grooming kits.

7.Sharf Gold Touch Pet Shears
The last grooming scissors that you can use at home to groom your pet comes from Sharf. These scissors will give you great results for all types of dog breeds as long as you get used to grooming them.
This pair of scissors is 6.0inch in size, and it comes with 42 teeth. It is one of the best thinning scissors you will find for your dog.
The stainless-steel material of these scissors makes it a very reliable product. You can enjoy it for a long time and trust that it will not disappoint you.
The comfort rings are easy to remove to use this product comfortably, even if you have bigger hands.
You will receive a sturdy case along with this pair of scissors, so you store it safely and without damaging it.
The design of these scissors is pleasant and attractive as well. It has gold accents on a silver and shiny blade, and you will not have to worry about maintaining it.
Pros
Perfect grooming scissors for all types of breeds.
6.5 inch and 42 teeth.
Made of stainless steel.
Removable comfort rings
Storage case included
Cons
It is not a grooming set.
You can't choose between different colors.
Check Price on Amazon

Frequently asked questions
Can I use the dog grooming scissors for cats too?
Most grooming scissors intended for dogs can successfully be used on cats. But the size of the scissors matters as well. You will not be able to make the most out of a big pair of scissors if you plan to use them on a small kitten. So, if you consider these aspects, you can use your grooming scissors on both your dog and your cat.

Are these scissors safe?
Grooming scissors are safe if they have a round tip that prevents stabbing or poking your pet. But to use grooming scissors safely, you need to follow the instructions that it comes with. Generally speaking, grooming scissors are considered safe for any dog or cat.

Should I get one multi-purpose scissor or a kit?
The type of product you choose depends on your preferences as well as your needs. Ideally, you should invest in a grooming kit that comes with different scissors for different body parts. But if you want a multi-purpose scissor, the market offers such grooming products as well.

Top-Rated Professional Dog Grooming Scissors Reviews
Our Pick
There are many reasons we love the Gimars grooming set, and we are sure that you will appreciate it just as much.
Inside this set, you will find all the scissors you need to groom any part of your dog's body.
Each piece of the kit is coated in a layer of titanium increases the scissors' resistance for the long run.
We also appreciate the ergonomic design, which is excellent for prolonged usage.
If you have bigger hands and this set is not as comfortable for you, there is the option to remove the finger rings and get more space.
As you can see, choosing the right grooming scissors or grooming set is not complicated as long as you have the right information.
Use this guide to make the best decision for you, and you will not regret your investment. If you are still not sure about the grooming scissors you want to purchase, ask your vet as they will guide you towards what will work best for your pet.

Key References
"The importance of dog grooming – The Vet". Accessed December 10, 2020. Link.