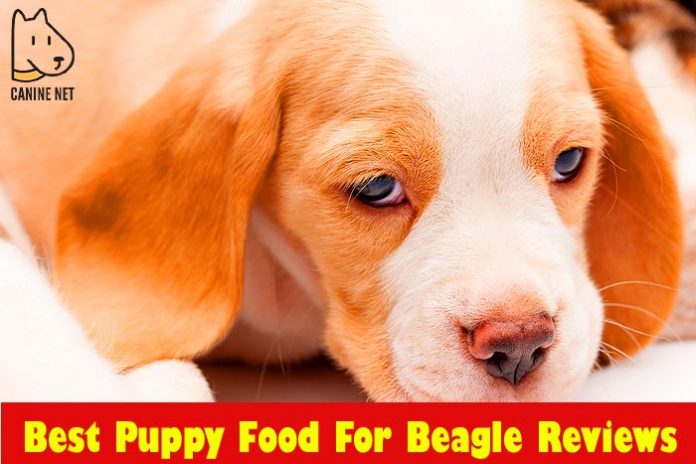 Best Puppy Food For Beagle: Beagles are known for being foodies and eating almost everything they can get their mouths on. But that doesn't mean that they should eat…everything!
Like all the other breeds, beagles have their needs in terms of nutrition, and you want to give them the best food.
Best Puppy Food For Beagle
Our Pick
If we had to choose one dog food for your beagle, we would go for the Hill's Science dry dog food. Your beagle will love the rich chicken flavor and benefit from all the nutrients in this dry food.
We ♥ honesty! Canine Net earns a commission through the following hand-picked links at no extra cost to you.
If you are not sure what a healthy diet looks like for a beagle, keep reading!
We put together a complete guide with all the information you need, and we included three examples of beagle food to choose from if you want.
Best Puppy Food For Beagle – Comparison Table
Benefits
Supports the immune system and a healthy digestive system
Supports immune system, eye and brain development, muscle and bone development
Supports immune system, brain development, eye development, healthy muscles
Benefits
Supports the immune system and a healthy digestive system
Our Pick
Benefits
Supports immune system, eye and brain development, muscle and bone development
Benefits
Supports immune system, brain development, eye development, healthy muscles

How often should you feed your Beagle puppy?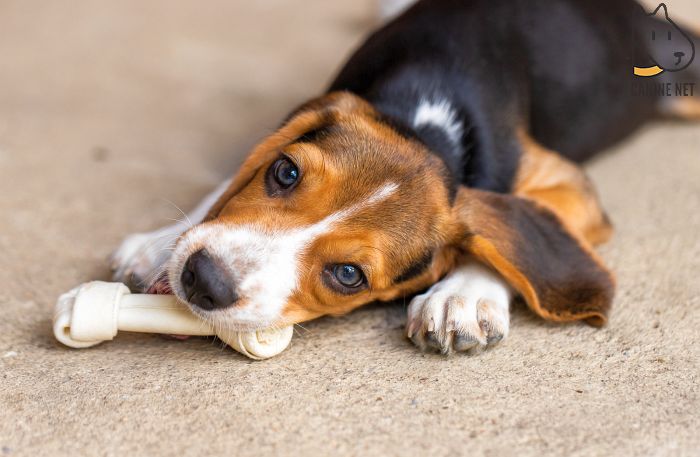 Even if your beagle wants to snack all the time, you will have to control their eating schedule as well as the size of their portions. The eating schedule for a beagle will vary according to their age as well.
From 8 weeks to 6 months old, beagles will have to eat three times a day. During this time, your puppy will be in constant development, and they will also be very active. So, they will burn the calories fast, so it is essential to stick to the three meals a day.
Adult beagles can have two meals a day as long as you maintain the same eating time schedule. You can choose to feed your adult beagle in the morning and in the evening. The size of the meals is also crucial as you don't want to overfeed your beagle. If you feed your beagle too much, they will develop weight problems relatively fast as well as other health issues.
Suggested Reading:

How many calories does my Beagle puppy need?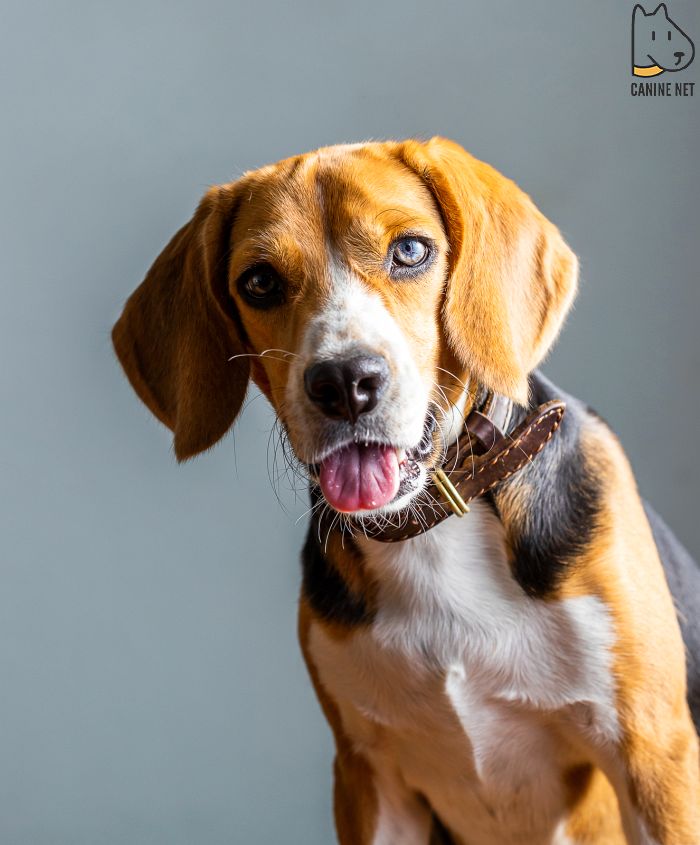 As we mentioned, how much your beagle eats is also an essential aspect. You will want to provide them the right amount of calories and the nutrients they need in tasty food each day. The number of calories your beagle needs also depends on its age.
The general rule says that a beagle puppy will need to eat 55 calories per one pound of body weight. If you feed your dog with the food you buy from the store, you will get specific indications on the package.
All dog foods come with a feeding chart in which you can find the amount of food per meal according to your puppy's weight. But if you feed them homemade food, you will have to calculate the number of calories yourself.
As your dog gets older, they will need fewer calories because their metabolism slows down with age. So, an adult beagle will need 45 calories per one pound of body weight, and a senior one will need 42 calories per one pound of body weight.
Suggested Reading:

How Much Food to Feed a Beagle puppy?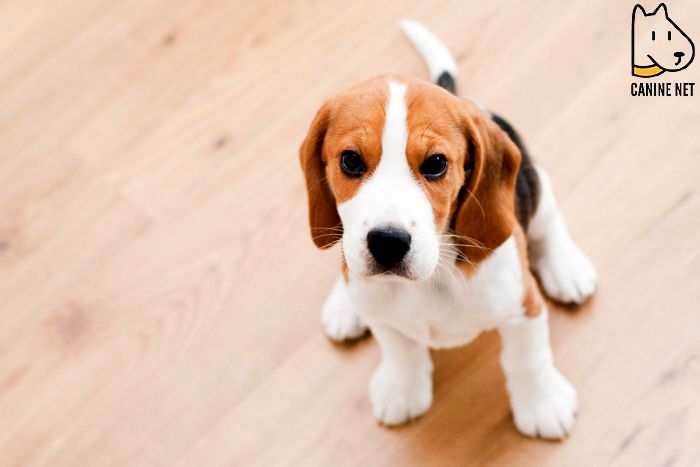 Beagle Puppy Food Chart: The quantity of food you feed your beagle puppy per meal is just as important as having a regular meal schedule. There are general meal sizes that you can use as a guiding system, according to your puppy's weight.
For instance, a beagle puppy that weighs 2 kg/4 lbs should eat 85 g/ 2/3C per meal.
A beagle of 5 kg/11 lbs should have 130 g/ 1C, while a 10 kg/11 lbs beagle should eat 150 g/ 1 1/4 C per meal.
Keep in mind that not all beagles are the same so, you will have to watch your dog and see if they get hungry in between meals.
If this happens, you might want to increase the food quantity or change their food to a more filling.

What foods are bad for beagles in general?
Even if beagles are known as big foodies, there are types of foods that they should stay away from. Your beagle will want to eat or taste everything, so it will be up to you as their owner to keep them away from foods that are bad for them.
Suggested Reading:
A) Hot and spicy foods
Beagle will not care for foods that are spicy as they don't appreciate the taste anyway. Spicy foods will also challenge their health which is the main reason why you should avoid them when you establish your dog's diet. So, while you can feed your dog some leftovers, make sure to skip giving them those hot sauces or chili foods.

B) Chocolate
Chocolate is not suitable for any type of dog as it contains a lot of sugar. Your puppy will not be able to digest chocolate properly, and they will not taste it entirely either. It is best to keep all types of chocolate away from your beagle.

C) Onion
Onions are toxic for your beagle. The N-propyl disulfide in onion will cause your dog anemia by causing a breakdown of the red blood cells. Avoid not only raw onion but also foods that contain onion in any form. Besides anemia, onions can cause dogs to experience toxicosis, which can be life-threatening.

D) Raisins and grapes
The reason why your beagle should stay away from both raisins and grapes is that they can cause kidney failure. All types of grapes and raisins should be avoided as they are toxic not only for beagles but for all puppies.
The foods that your beagle should not have in their diet because they are toxic are almonds, apple seeds, apricot pits, avocados, candy and sweets with artificial sugar, and drinks with alcohol, cinnamon, coffee, macadamia nuts, mustard seeds, peach pits, tomato leaves and stems, yeast dough and anything containing xylitol. You will notice that this list of foods applies to all dogs as they are hard to digest and can cause severe health conditions.

Is banana good for beagles?
Bananas are not only safe for your beagle to eat but also some of the best fruits you can add to their diet. Bananas contain plenty of potassium which is healthy for your beagle as long as they eat it in moderation.
You can give your beagle a banana as a snack between meals if you notice that they get hungry. Also, dried or dehydrated bananas can be a delicious treat as well. Besides potassium, bananas are rich in vitamin C and B6 as well as fiber and magnesium.
Eating bananas will help your dog have good muscle development and reduced the risk of bladder infections.
Suggested Reading:

What human food can beagles eat?
Beagles can eat all types of human food as long as it is not hot or spicy. Foods rich in salt should also be avoided. Keep in mind to skip the foods on the list above, and you can give your beagle anything else except those foods.
Your beagle can eat most veggies such as carrots, potatoes, sweet potatoes, squash, broccoli, and many others that cannot be found on the prohibited list. They can also eat all kinds of meat such as beef, pork, chicken or turkey and even fish. Dairy products and eggs are a good choice for your beagle due to their high intake of protein.
However, when it comes to cheese, it is vital to keep the quantity under control. You don't want your dog to get full from dairy products. Too much cheese will be difficult to digest due to the high lactose level.
Even if a type of human food is generally safe for beagles, it is essential to watch how your dog reacts to it. If you notice any side effects such as skin irritation or vomiting, and diarrhea, you should stop feeding them that particular food and talk to their vet.
Suggested Reading:

Why is my beagle always hungry?
You are feeding your dog the proper amount of food, and you respect the meal schedule as well. You make sure they get the number of calories they need and the correct nutritional intake. Yet, they seem to be still hungry! Some reasons could explain excessive hangers in beagles of all ages.
A) Your beagle doesn't get the nutrition they need from their food
If you don't feed your beagle the correct type of food to get all the protein, vitamins, and minerals from their daily meals, you will notice that they will ask for more food. This is normal, considering that a lack of nutrition will send the body the message that it is hungry. If you are not sure what beagle food is best for your puppy, don't hesitate to talk to your vet.
Suggested Reading:

B) They are used to get rewards for everything
During the training phase, you most likely offered your beagle a treat every time they did something right. Training dogs with treats is very efficient as they receive the reinforcement they need until they pick up on a good habit. But some beagles get used to receiving snacks more than they should, and that is when they seem to be hungry all the time.

C) They don't have a regular eating schedule
If your dog is not used to eat at the same time each day, you will notice that they get hungry randomly. Plus, not feeding your puppy on a schedule will affect their metabolism, so they will not regulate their hanger correctly.

How many cups of food should a beagle puppy eat?
Beagle puppies don't eat a lot of food per meal until they become adults. You can feed them as little as 2/3 cup of food per meal in their first weeks of life. By the time your beagle puppy will be six months old, they will eat 1 cup to 1 – 1/4 cups a meal.
Each puppy is different, and even the days are different. According to the activities they get into, some beagles might be hungrier during some days after an intense run, for instance. Observe your dog and see how much food is enough for them, but don't get too far away from the recommendations you find on the dog food packages or what your vet tells you.

Can beagles eat eggs?
Beagles can eat eggs in all forms as long as they are not seasoned with too much salt or hot and spicy seasonings.
You can give your dog boiled eggs and even scrambled eggs or omelet and season them with dried herbs instead of salt, pepper, or chili. Offering your dog such a treat 2 or 3 times a week can bring many benefits to their diet.
Your beagle puppy will not have any problem digesting eggs, and they can even get rid of an upset stomach if they eat a good omelet. Eggs are rich in protein and amino acids, and fatty acids that will help your puppy grow healthy and strong.

What fruits can beagles eat?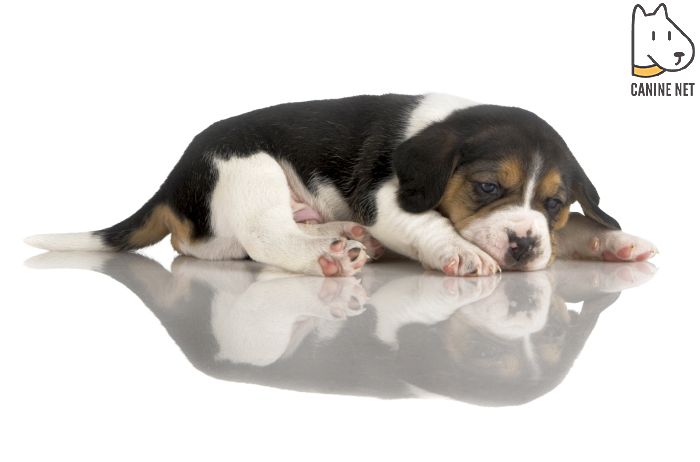 Fruits can also be a great source of natural sugar and vitamins, and minerals that will help your dog's health.
Besides bananas, beagles can also eat oranges, peaches, kiwis, strawberries, pumpkin, watermelon, and pears. Different types of berries are also safe for beagles, such as blueberries or raspberries.
Even if fruits contain the natural sugar and other nutrients your puppy will benefit from, you still want to watch the quantity of fruits you feed them.
If your beagle eats too many fruits, it will have too much energy due to its sugar. So, keep fruits as rare snacks instead of regular food.

What to look for?
Choosing the right beagle food can be tricky if you are unsure what to look for in such dog food. We put together some aspects that you want to keep in mind when you invest in a specific food brand.
A) Check the list of ingredients
One of the most essential aspects to check before investing in food for your dog is the list of ingredients. You want dog food made of natural ingredients that will not give your puppy any allergic reactions.

B) Pick food that suits your dog's needs
The dog food you choose should be made for your dog's breed, weight, and nutritional needs. If you feed a large breed dog food for small or medium breeds, they will not get the nutrients they need regardless of the food quality. So, check the breed and age of puppies that the food is intended for and see if it matches your dog's needs.

C) Look for potential allergies
If you know already that your dog has a sensitivity or intolerance to a specific ingredient, you should check the list of ingredients and avoid it. Your puppy might be sensitive even to a natural ingredient in their food. So, even if you choose a type of dog food with no artificial flavorings or ingredients, your puppy might still develop allergic symptoms. If you notice that your puppy has any side effects after eating new dog food, contact your veterinarian and stop giving them that food.

Best Puppy Food for Beagles Reviews
The following beagle foods are safe, and you shouldn't expect any side effects from them. On top of that, they offer your dog everything they need to have a healthy lifestyle and keep their hanger under control.
1. Royal Canin Medium Puppy Dry Dog Food Review
Royal Canin is one of the most popular brands on the market for dog food. Your beagle will love this type of food, and they will maintain good health by eating it. They come with a natural selection of ingredients as well as all the benefits your dog needs. And you will not have to worry about any allergies as this type of food is safe enough to be recommended by vets.
You can find this food in different sizes, such as a six-pound pack or a 17-pound pack, and even a 30-pound pack. Once you know that your dog loves this type of food, it will be more convenient to purchase it in bigger packs, so you don't have to buy it every week. Plus, you might find it at better deals if you get it in bigger packages.
This type of dry food is ideal for dogs up to one year old, and it is rich in vitamins and nutrients that will support your puppy's growth. Once your dog reaches one year old, you can upgrade their food to a brand that creates food for adult dogs. You will find such an alternative as well in this guide, so keep reading.
Your puppy will have a more robust immune system if you feed them this Royal Canin Beagle puppy food daily. Plus, the formula in this dog food supports just the right level of energy a beagle pup should have. They are energetic dogs by nature. If you don't offer them the right type of nutrition, they could be either hungry all the time or have too much energy, which means you have to make sure they are entertained.
The minerals in this food will help your puppy have strong bones and healthy joints as they grow into the adult dog you will love. The main benefit of good beagle food is the healthy aspects it brings. And this type of food empowers your puppy's immune system every time they have a meal.
The probiotics in this food will also help your dog have healthy digestion and avoid constipation or diarrhea. You will find it easier to manage your puppy's needs, and you will enjoy your time together much. It is essential to avoid such issues as your dog will not complain about their aches, so you will have to guess, and this could be a stressful process for both of you.
Pros
Tasty dog food for puppies so your beagle will love having this food every time.
Contains probiotics for a healthier digestive system and offer your puppy the energy it needs.
Supports the immune system and bone and joint health so your puppy will grow into a strong and healthy adult beagle.
Different pack sizes available, which is very convenient once you know your dog loves this food, and you can purchase it in a bigger pack.
Rich in vitamins, minerals, and protein to cover all the nutrition your puppy needs to develop healthily and avoid different conditions.
Cons
Not recommended for puppies with a weight lower than 11kg/23lbs, so switch to a different dog food if your dog doesn't fit the weight limit.
It doesn't come in different flavors, so if your dog doesn't like it, you will have to look at other options.
Check Price on Amazon

2. Hill's Science Diet Dry Dog Food Review
Hill's Science also offers a great type of food for beagles that will give your dog all the nutrients they need each meal. We also chose this as the best option to consider mainly because it comes with all the qualities you should look for in premium beagle food.
The chicken flavor of this food will make your dog love every portion of it. It has an inviting smell as well, without being bothering everyone else. For beagles, the smell and the taste of the food are important factors to take into account. So, you can't oversee these aspects because if your beagle doesn't like the smell of the food, chances are they will not eat it, no matter how healthy it is for them. But you will not have such a problem with this dog food!
You can also choose this dry dog food in packages of different sizes. The smallest size is 4.5 lbs, but the food is also available in 15.5 lbs and 30 lbs. If you learn that your beagle loves this type of food, you will find it a lot more convenient to get it in a bigger size as they will eat it daily.
Besides all the ingredients that support your dog's immune system, this food also contains DHA from fish oil to help them have a good eye and brain development. You will notice that not all dog foods have this nutrient, but it can make a real difference in your beagle's diet.
The protein in this food is ideal for the muscle health of your puppy, and it supports their growth as well. Beagles are very active dogs, and healthy muscles are essential for their development.
All the ingredients in this dog food are natural. Veterinarians from all over the world recommend the product. It is not just healthy and tasty, but it has all your puppy needs to grow into the strong dog you want them to be and avoid significant health issues.
Pros
No toxic ingredients, so if you have a sensitive puppy, you will not have to worry about any reactions after eating this type of food.
Different sizes available, which allows you to purchase just enough food to be comfortable and balance your budget accordingly.
The chicken flavor, which is one of the beagles' favorite flavors in dog food.
Supports dog immune system so your puppy will avoid getting threatening health conditions in their adult life.
Supports eye and brain development; thanks to the fish oil ingredient that sets this food apart from other dog foods.
Cons
Not recommended for adult beagles because it will not offer them the nutrition they need.
Not easy to find in stores, but you can order it online with no hassle.
Check Price on Amazon

3. IAMS PROACTIVE HEALTH Smart Puppy Dry Dog Food Review
The last but definitely not the least dog food you can consider adding to your beagle's diet comes from Iams. This dog food is recommended by veterinarians, just like the last two options we offered you. On top of that, it has all the ingredients you might look for in such a diet.
This dog food contains real chicken, so your dog will love its taste and texture every time they get a portion. Real chicken adds a rich flavor to your dog's food and adds quality protein to it.
You can find this type of food available in two versions. For beagle, you would get the medium breed version, but there is one for larger dogs. So, if you have another puppy other than your beagle, this food could work for them, which will save you any hassle.
As far as the size of the package, you can choose from a seven lbs bag and a 15 lbs bag which is very convenient as you can start with the smaller size until you are sure it is the right food for your beagle.
You will notice that the first ingredient in this food is farm-raised chicken followed by ground whole grain and plenty of nutrients your puppy will enjoy daily. All the ingredients are beneficial for your beagle puppy to grow harmoniously and happy into the dog you want them to be.
Like Hill's Science, the previous product in our list, this food contains DHA, making it a premium dog food. The omega- 3 DHA in this food supports your puppy's brain development and helps them learn faster. This means that you will find it easier to train them and you will enjoy a better life together.
This dry food is recommended by veterinarians as well, and it contains 22 nutrients similar to those in mother's milk. You can count on it for all types of breeds, but it will work best for beagles or other hound dogs as it offers them the vitamins they need to be the cheerful dogs we all love!
Pros
Supports brain development for a better training process and the ability to learn more tricks in a faster time.
Made with real chicken, which is tastier and healthier than chicken flavor added in an artificial way.
Omega-3 DHA for better brain and eye development so your puppy will be healthy and have the perfect vision.
Similar to mother's milk in terms of nutrition which is vital for puppies as they start eating solid food.
Different sizes available on the market, so you can choose the size that works best for you and your beagle friend.
Cons
It is not available in different flavors, but beagles tend to love chicken flavor.
Not all ingredients are natural, as many are processed to blend in with the mix of this food.
Check Price on Amazon

Beagle Puppy Caring Tips
If you decided to get a beagle as a family pet, you would have to be aware of specific tips to properly care for your new furry friend. Here are a few extra tips to help you care for your beagle in a way that both of you will have a great life together!
A) Train your puppy
Training your puppy is mandatory if you want to enjoy your time together. Beagles listen to their instincts a lot, and they are not well trained; they can be challenging to manage. Training should start as early as possible and be consistent so that your puppy knows the rules of the house and respects them.

B) Make sure they get plenty of exercises
Beagles are very active dogs. They are also very playful, so you will need to offer them the level of exercise they need. Make sure you take your beagle puppy on walks as soon as they are ready for that and play with them indoors as well. They appreciate toys of all kinds, and you can keep them occupied a lot if you invest in suitable toys for them, such as chewing toys and rubber squeezing toys.

C) Feed them the correct type of diet
The diet you give your beagle is vital for their health and overall development. You want them to eat healthily and enjoy all the nutrients to grow and have energy. Follow the tips and information in this guide and make sure that you choose the right dog food for your beagle. Your vet will help you with this decision as well if you have any further questions.

D) Vaccine your puppy
Vaccination is essential for your dog as well as for others who get in contact with them. Take your beagle to the vet when you bring them home and establish a vaccination plan that you will follow. Your vet will also recommend you a specific medication to prevent health conditions that beagles are prone to experience.

Top-Rated Puppy Food For Beagle
Our Pick
The Hill's Science dog food is the best to choose for your beagle for many reasons.
We love the fact that this dry dog food is not just tasty but also supports many health aspects when it comes to your dog. It will support your dog's immune system as well as the eye, brain, muscle development, and overall health. By feeding your beagle this food since they are a puppy, you will have a healthier adult dog with fewer vet visits and severe health conditions.
An interesting fact about this dog food is that it contains DHA from fish oil, which helps develop the eyes and brain. DHA is found in premium dog foods but not in most of them, so it is an essential ingredient that your puppy can't take from other places but the food they have daily.
It also empowers your dog's teeth which is very important and will reduce costs on potential dental issues your beagle might face otherwise. You want to avoid as many health conditions as possible, and many start with poor dental health. This is why this type of food will help your dog enjoy solid teeth and optimum overall health.
The fact that this Hill's Science dog food is coming with the recommendation of veterinarians and specialists makes it a good option for your beagle as well. It is not just food that tastes well but, more importantly, one of those foods that will empower your beagle and support its growth in all its aspects.
No matter how old your beagle is, you should always offer them the correct type of food for their needs. A good diet can avoid potential health conditions, as well as help, treat others.
It is well worth investing in premium dog food as your puppy will grow up healthier and happier if you do that.

Key References
"Ask A Vet Online 24/7 – PetCoach". Accessed May 16, 2021. Link.