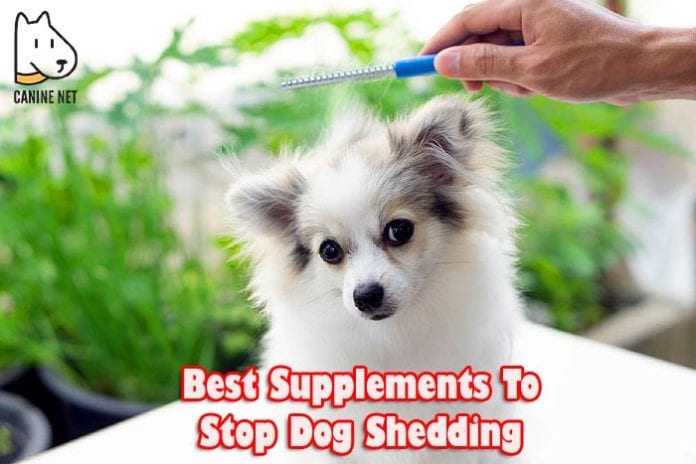 Best Supplements To Stop Dog Shedding: All dogs shed more or less, but to some, this seems to be a chronic condition. If this is the case for your puppy, you should take action right away. When it comes to most dogs, shedding is something that the owner can keep under control.
Best Supplements To Stop Dog Shedding
Our Pick
If we had to pick the best dog supplement to stop shedding, we would go for Maddie's American Pet supplement as it contains Krill oil, which is free of toxins and pollutants. It is a great treat and easy to absorb.
We ♥ honesty! Canine Net earns a commission through the following hand-picked links at no extra cost to you.
With a healthy diet and a balanced lifestyle, your dog shouldn't have to deal with any shedding issues.
However, if the home remedies don't stop your dog from leaving its fur all over the place, you want to look into supplements.
We put together a detailed guide to ease your task as you choose the best supplements for your puppy.
In this guide, you will also find a selection of great supplements that will improve your dog's overall health.
Best Dog Supplements To Stop Shedding – Comparison Table
Health benefits
Reduces shedding, joint health, supports immune system
Reduces shedding, shiny fur, healthy skin, joint support, improved immune system
Reduces shedding, healthy fur and skin, improved muscle strength, joint support
Reduces shedding, increased energy, stronger joints, stronger immune system
Healthy skin and coat, reduces shedding, improved immune system
Nutrients
Omega3, Omega6, Antioxidant Astaxanthin
Omega3, flaxseeds, antioxidants
CoQ10, natural minerals and vitamins, seaweed
Omega3, Omega6, flaxseeds, kelp

Why Do Dogs Shed Their Skin?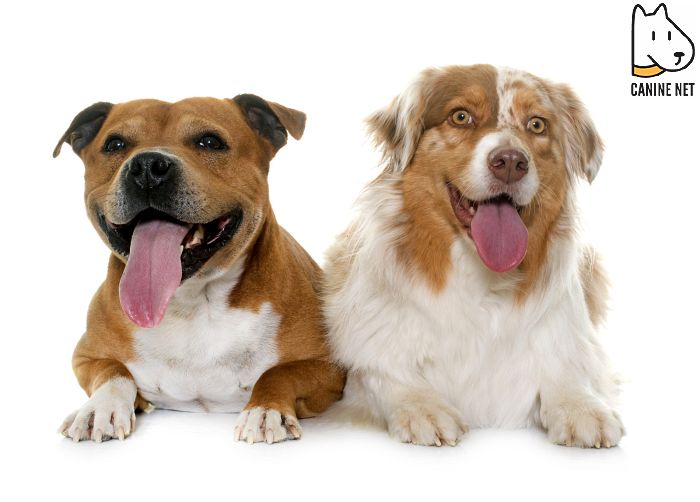 Dogs shed for a variety of reasons. Identifying the root cause of this condition will help you find the best treatment as well.
Generally, shedding is your dog losing the damaged or dead hair. Shedding is a natural process and not a pathology unless it becomes excessive. This natural process is one that all dogs will go through to renew their fur.
It is essential to choose the breed of dog wisely as different breeds will shed in different ways and times of the year. Some dogs will shed only during the summer and dogs that shed all year, regardless of the season.
Some of the low shedding breeds are Australian Terriers, Poodles, Maltese, and Irish Terriers or Tibetan Terriers.
At the high shedding level, we find dogs such as German Shepherd, Akita, Chow Chow, Saint Bernard, Golden Retriever, Labradors, and Huskies.
Suggested Reading:

Should You Be Worried About Excess Shedding?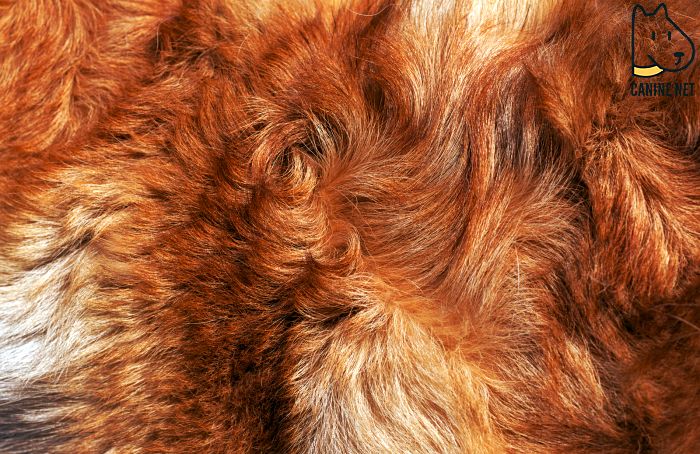 While shedding to a certain degree is natural in all dogs, excessive shedding can be a significant problem. This is usually not a condition by itself but rather a side effect of a more severe underlining health condition.
Some signs that tell you to worry about shedding include dry skin and irritable skin, as well as bald spots on your dog's body.
These are signs that your dog might suffer from a more severe condition, and you should take them to the vet for a proper diagnose.
Also, if your dog was not shedding every year as much as they recently started to shed, this is a sign that something changed in their overall health state.
Suggested Reading:

Causes of Excessive Shedding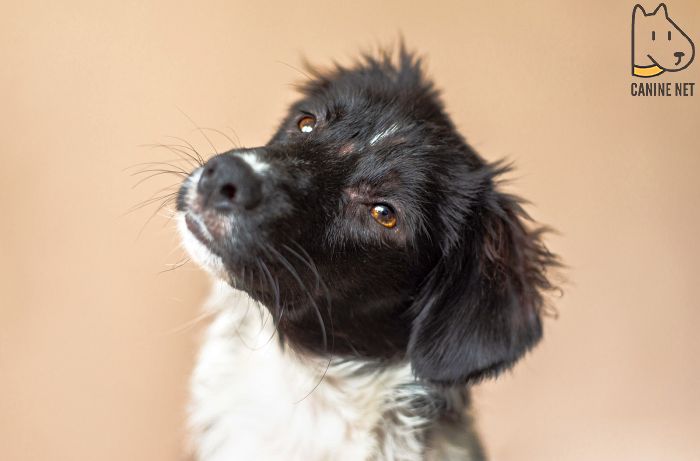 Dogs can start shedding significantly for many reasons. Keep in mind that each one of these reasons should be identified by a vet before starting the proper treatment.
Allergies are a prevalent cause of excessive shedding. Like humans, dogs can be allergic to food, medication, an environmental factor, and a chemical in their shampoo. Identifying the allergy cause and eliminating it from their life could fix the shedding issue faster than you think.
A hormonal imbalance could also be the culprit for shedding. The most common form of hormonal issues is the imbalances in the thyroid gland. If your dog has problems with its thyroid gland, it might have brittle hair. Your vet might diagnose your dog with hypothyroidism, which is common and has a defined treatment. Also, pregnancy causes hair loss in dogs, but this is a temporary condition.
A poor diet can result in a lot of fur loss as well. Your dog's vet will run blood tests to identify if your dog is lacking any nutrients or if it has an overdose on it.
Stress is another reason for excessive shedding. For instance, if you moved to a new home or one of your family members is away for too long, your dog might be more affected than you realize.
Last but not least, there are plenty of skin conditions that could get your dog to lose its fur. Dermatitis, mites and other parasites, fungal infections, and bacterial infections are common causes that should be addressed right away.
Suggested Reading:

How To Stop Dog Shedding?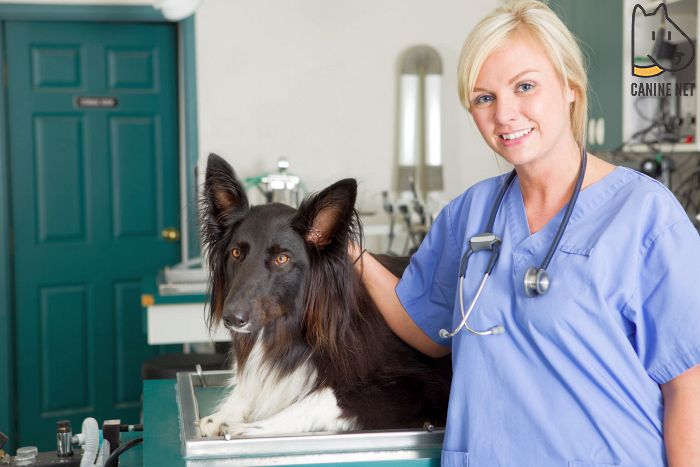 If your dog is shedding too much, first of all, you want to identify if any underlining conditions might cause the shedding.
Have your vet look at your dog and run the tests they need to so they can put a correct diagnose. Once you identified the shedding reason, making sure your dog gets the proper treatment will fix the issue.
However, if your dog is a high shedding level breed, you can do some common things to reduce the hassle.

A) Have a regular brushing schedule
Brushing your dog on a regular schedule can reduce a lot of the shedding problem.
Depending on their breed, you will have to brush them weekly or even several times a week.
If you brush your dog often, you will notice that their fur will be softer and also cleaner.
You can decide on a brushing spot as well; that way, you don't make hair all over the house.
Suggested Reading:

B) Feed your dog correctly
Many of a dog's health issues come from feeding them a diet that is not appropriate for them. Dogs need protein as well as minerals, vitamins, and fiber.
If you are not sure what food to give your furry friend, don't hesitate to ask your vet.
They will guide you towards the best dog food for shedding and the best homemade dog recipes you can try to make.
Suggested Reading:

C) Give them the right supplements
In some cases, dogs need supplements to balance out their diet. Your vet will recommend you the best supplements for your dog to help them shed less. But you will also find a lot of products on the market that can help your pet significantly.
Suggested Reading:

D) Keep their allergies under control
Allergies are a common cause of excessive shedding. But the good news is that you can keep them under control. If your dog is allergic to something, it is essential to avoid exposing them to that particular allergen. Also, make sure their fur is parasite-free because these parasites can also increase shedding.
Suggested Reading:

Fish oil for dog shedding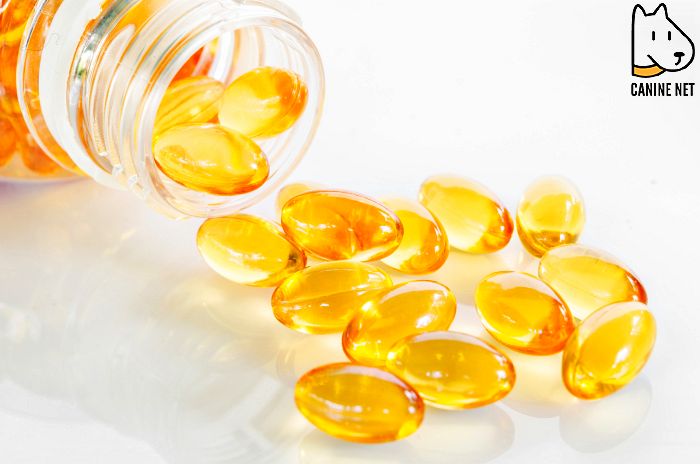 If you heard that fish oil can help your dog with its shedding problems, this is entirely true. However, the best way to give your dog fish oil is as part of a supplement that contains this ingredient, among other nutrients.
Good fish oil or supplement containing fish oil should come with a combination of Omega 3 and Omega 6.these supplements also have a good taste, so your puppy will love having them as part of their diet.
Once you start introducing quality fish oil to your dog's diet, you should notice improvements in a few weeks.
Before establishing the dose of fish oil, you want to give your dog each day, read the product's instructions and consult your vet, make sure the supplement doesn't contain any ingredients that your dog might be allergic to.
Suggested Reading:

Coconut oil for dog shedding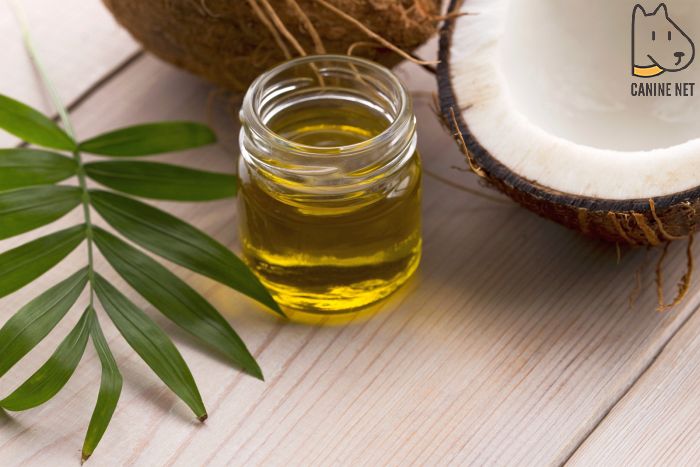 Coconut oil can also make a difference in terms of reducing shedding. But you have to add it to your dog's diet correctly to see results. We can think of coconut oil as a super oil for both humans and dogs. Its benefits are endless, and you will see how your dog is shedding less if you give them this efficient oil.
Add 1 teaspoon of coconut oil to your dog's food or give it to them plain if they don't mind eating it like that each day. It is important not to overdo it, but you can gradually increase the quantity as your dog adjusts to it.
Eventually, you can give them a teaspoon of coconut oil for 10 pounds of body weight each day.
Coconut oil will help your dog have healthy digestion, reduce allergies and shedding, and improve their fur's quality.
Suggested Reading:

How long does it take for skin and coat supplements to work?
If you started giving your dog supplements to reduce shedding, you might wonder how long it will be until you see results. The efficiency of the supplement depends on what it contains.
You will generally see your dog's fur improving after a few weeks of daily fish oil supplement. The same time frame goes for coconut oil. But there are supplements on the more concentrated market and more comfortable to assimilate, so you will notice positive results even faster.
If you don't see any improvement after a month of giving your dog a particular supplement, ask their vet.
They will know why no results appear and how you can adjust your dog's diet for more benefits!

Are there any side effects from skin and coat supplements?
Every time you introduce treatment to your dog, you want to stay informed about the potential side effects.
Each supplement might come with its own set of potential side effects. Since most of these supplements are meant to be ingested by your dog, the side effects will fit in the same category.
The most common side effects you might notice in your dog are digestive issues. They could vomit, have loose stools, or be constipated.
Some dogs might develop allergic reactions to certain ingredients in a supplement. This is why it is essential to check the ingredients and potential side effects before adding such a product to your dog's diet.

What to look for?
If you never invested in a dog supplement, you might wonder which supplement is best for your puppy.
A) Ingredients
One of the main aspects you need to pay attention to is the list of your dog's supplement ingredients.
You want to look for products that don't contain added flavorings, coloring, sugar, or salt.
Also, stay away from supplements that are made of any toxic ingredient and chemicals.
Looking for dog supplements with a high concentration of Omega 3 and Omega 6 is an excellent start as a necessary nutrient list that your furry friend will need to get rid of the shedding problem.

B) Types of Pets
Not all supplements will suit all dogs. The market offers supplements for dogs, cats, and supplements for both types of pets.
However, to make sure the supplements will work great for your pet, you should choose specifically for dogs.
Even if dogs and cats have many similarities, they also have differences that require different types of nutrients.
However, if you own both a dog and a cat, you could save money by investing in a supplement that will work for both of them.

C) Servings
Most of these dog supplements can be served as a treat as well as a part of your pet's meal.
It is ideal for getting a supplement that could replace a treat for your dog. Some supplements come in the form of chewy bites, powder, or liquid.
The chewy bites tend to be the most practical as treats, while the powder and liquid supplements could easily add to your dog's daily meals.

D) Benefits
Even if most of these supplements will reduce shedding, they can also bring other benefits to your dog's life. Choose a supplement that will improve your dog's immune system, skin health, and joint and hip health on top of the shedding problem.

Best supplements to stop dog shedding
Here are the top 6 best supplements to stop dog shedding on the market today:
1. Maddie's American Pet supplement
The first supplement that might benefit your dog and help reduce shedding comes from Maddie's American Pet.
These supplements are ideal for dogs sensitive to allergens. They have a low allergy formula, so your puppy will not have to deal with any side effects.
The flavor is a creamy cheese flavor that your dog will love, so you can use this supplement as a snack as well.
Besides reducing excessive shedding, these supplements will leave your dog's coat healthy and shiny. It reduces itchiness and other skin irritations as well.
This product is rich in both Omega 3 and Omega 6 as well as the antioxidant Astaxanthin, so it will help your dog's overall health as well.
Veterinarian supported and produced in a way that is safe for your dog, with no toxins or pollutants.
Pros
Tasty supplements
Contains Omega 3 and Omega 6.
Easy to administrate
Reduce allergens
Supported by veterinarians
Cons
Not available for other types of pets.
Doesn't contain as many nutrients as other supplements.
Check Price on Amazon

2. Nutri-Vet Fish Oil Supplements for Dogs
This Nutri-Vet fish oil supplement is also an excellent choice for dogs that have excessive shedding.
This supplement is ideal for making sure that your dog has shiny and healthy fur.
If your dog is shedding too much or their fur looks brittle, dull, or unhealthy, this fish oil supplement might be just what they need.
The Omega 3 fatty acids in this product are ideal for healing skin irritation, itchiness, and dry skin.
You can give your dog these supplements as part of their meal or as a snack separately. They have a pleasant taste that most dogs love.
By giving your dog this supplement, you support more than the health of their coat. It is excellent for a sound immune system as well as joint health.
Pros
Rich in Omega 3.
Mix with meals or feed as treats.
Improves overall health
Great for active dogs or large breeds.
Heals skin conditions
Cons
This supplement doesn't have a specific flavor.
Doesn't contain Omega 6.
Check Price on Amazon

3. Salmon Oil for Dogs
This Salmon oil for dogs is also a great solution to keep excessive shedding under control.
This dog supplement from Strawfield will improve your pet's health in just a few weeks. It is based on salmon oil, but it has other nutrients as well.
Among this supplement's ingredients, you will find Omega 3, Omega 6, Omega 9, and vitamin C, E, and Sea Kelp. This product doesn't contain gluten, salt, sugar, or any gumming agents.
This supplement is safe for sensitive dogs as it has a low risk of allergies. This product will not expose your dog to any health risk, and it will leave their fur shiny and healthy.
You should expect to notice reduced shedding after only two weeks of giving your dog this supplement.
It is easy to add these salmon chews as part of your dog's meal or as an individual snack. They have a delicious fish taste that your furry friend will love.
Besides reducing shedding, this product will also support your dog's joint health and empower their immune system.
Pros
Administrate as snacks or with your dog's meal.
Improves joint health
Reduces shedding
Rich in nutrients
No added sugar, salt, or other chemicals.
Cons
Not all dogs might like the taste of this supplement.
Harder than other chewy supplements.
Check Price on Amazon

4. XLNCE Dog multivitamin and supplements
This liquid supplement can improve the quality of your dog's fur but also add other health benefits.
This supplement contains not less than 127 ingredients that will help your dog be healthier and more agile.
Among the benefits of this supplement, we name a softer fur, healthier skin, stronger muscles, and a thicker coat.
Among the ingredients of this product, you will find natural vitamins and minerals highly efficient and better than any other chemicals.
These supplements won't expose your dog to any side effects. They will have a better joint health and gain strength with every dose of this supplement.
Administrating this supplement to your dog is relatively easy too. All you have to do is pour the dose recommended in the instructions over your dog's meal.
This supplement will increase your dog's energy level as well. It takes only two months to start seeing the results you want.
Pros
Reduces shedding significantly
Improves overall health of your dog.
Easy to administrate
Liquid form
Results show up after only two months.
Cons
Can't feed it as a snack.
Stronger smell than other products.
Check Price on Amazon

5. The Missing Link Original All-Natural Superfood Dog Supplement
This supplement will not only improve your dog's fur and reduce shedding, but it will also bring them multiple health benefits.
In these natural supplements for dog shedding, you will find the perfect balance between Omega 3 and Omega 6 and other nutrients such as flaxseeds and kelp.
A tablespoon of this supplement a day will help your dog have healthier fur and heal itchy skin or other skin conditions.
All ingredients are natural. This product doesn't contain any GMO ingredients, chemicals, or toxins.
This supplement doesn't have any added flavorings or coloring, so it comes in its natural state.
You can add it to your dog's meal once a day, and you will see improvements in their health over the next weeks.
Pros
Natural ingredients
Rich in both Omega 3 and Omega 6.
Easy to administrate
No artificial flavorings
No GMO
Cons
Not suitable as a treat.
Not a rich taste.
Check Price on Amazon

6. Grizzly Omega Health for Dogs & Cats
The last but definitely not the least supplement you can offer your puppy to stop the excessive shedding comes from Grizzly Pet Products.
The main ingredient in these supplements is salmon oil from Alaskan salmon. Besides this oil, they also contain Alaskan Pollock oil and other essential nutrients for your dog.
By giving your pet this supplement, you support their immune system as well as the health of their fur. They will shed less and have more energy.
The taste of these supplements is vibrant, and most dogs love it as soon as they have it.
You can find this product in two different sizes, one of 16 oz and 32 oz.
This product is an excellent choice for both cats and dogs, so it will work great for all your pets.
Among other benefits of these supplements, you can expect to see that it supports eye health, fights free radicals, is a great anti-inflammatory, and supports hip and joint health.
Pros
Natural fish oil
Perfect for both cats and dogs.
Rich taste that all pets love.
Multiple health benefits
Reduces shedding
Cons
Fewer nutrients than other supplements.
You can't serve it as a snack.
Check Price on Amazon

Frequently Asked Questions
Can I use the same supplement for dogs and cats?
Most of these supplements will work great for dogs and cats, but you should still check the product's description to make sure that it is accurate for the type of supplement you want. If the manufacturer didn't specify that you can feed the product to both cats and dogs, it is essential to invest in a supplement that suits your pet.

What happens if my dog gets too much of these supplements?
Overdosing on supplements can cause digestive issues such as vomiting, diarrhea, or constipation. Always respect the instructions that come with the product and if you have any additional questions, ask your vet.

Can my dog be allergic to certain ingredients in these supplements?
If you check the list of ingredients carefully, you will not risk giving your dog any allergic reaction. However, if you notice any side effects or discomfort in your puppy after feeding them such a supplement, you should talk to your vet before continuing the treatment.
By sticking to natural supplements that don't contain artificial coloring or flavoring, you can significantly eliminate the risk of allergies.

Top-Rated Supplements To Stop Dog Shedding
Our Pick
There are many reasons why we would choose Maddie's American Pet supplement to help your dog shed less.
You can use this supplement for both dogs and cats as it is just as efficient for reducing shedding.
Since it comes in a chewy bite form, you can feed it to your pet as a treat. A table on the container lets you know how many treats per day you can give your dog according to your dog's age and weight.
The Krill oil in this supplement is free of toxins and pollutants, and it will be easily absorbed.
We also love that specialists in dog nutrition recommend this supplement as a healthy and efficient option.
Shedding can be kept under control with proper care and attention to your dog's diet. It is essential to identify the cause of the excessive shedding before looking for the right treatment.
Apply the information in this guide and call your vet for extra concerns you might have regarding your dog's health.
Remember that shedding can be a side effect of a more dangerous condition, and it shouldn't be neglected.

Key References
"What to Do About Your Dog's Excessive Shedding". Accessed January 28, 2021. Link.
"Nutritional Requirements and Related Diseases of Small Animals – Management and Nutrition – Veterinary Manual". Accessed January 28, 2021. Link.