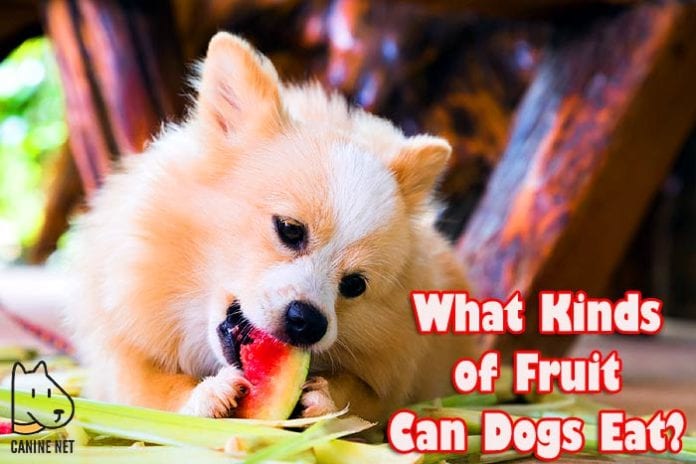 Dogs love to eat, but not everything they want to get their mouth on is healthy for them. Even if fruits are considered some of the healthiest foods for humans, you might be surprised to discover that they are not so good for your furry friend. Certain fruits that your dog can safely enjoy and others that should be avoided as much as possible.
What kinds of fruit can dogs eat?
Luckily, the number of fruits you should not feed your dog at all is limited. Your dog can't have avocado, cherries, grapes, or tomatoes. The rest of them are considered safe as long as they don't overeat any type of fruit.
Fruits Dogs Can and Can't Eat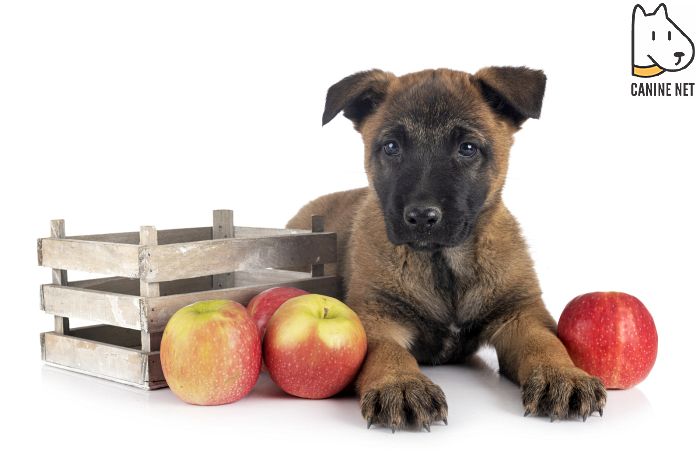 Some fruits are entirely safe for your dog and others that might expose them to mild or severe health conditions. Knowing the two categories will help you keep your puppy healthy for the long run.
What fruits can dogs eat?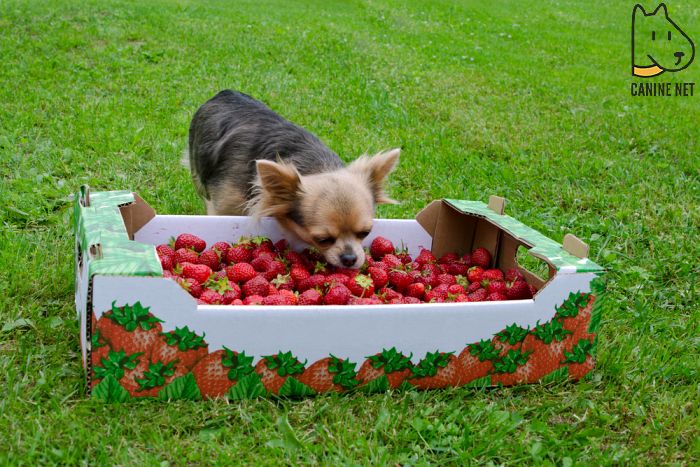 Here are some of the good fruits for your dog:
Bananas are an excellent snack for puppies of all breeds. Your pet will benefit from the high level of potassium as well as the fiber and copper found in these delicious fruits. Bananas have a reduced cholesterol level and a low sodium level, however, they are high in sugar. Due to the high sugar content, you shouldn't give your dog bananas too often. Keep these fruits as part of a snack, not a meal.
Blueberries can also be a healthy snack for dogs. You can add blueberries as a training reward as well. They are great fruits as they contain plenty of antioxidants, vitamins, and minerals. And they are easy to catch if you throw them in the air.
Watermelon and yellow melon strains. There is nothing more refreshing than some cold watermelon in the summer or a cantaloupe. You can share such a delicious treat with your dog as they will love every bite of these fruits. They are rich in vitamins and nutrients but also low in calories. But keep in mind that these fruits come with a lot of sugar, so you don't want to overfeed them to your dog.
Mango is another fruit that your dog can have any time they want but not in large quantities. As long as you remove the hard pit, mango is completely safe for your dog. It is rich in vitamin A, BC, and C, and E. Mango also contains alpha-carotene and beta-carotene and a lot of sugar.
Oranges are some fruits that most dogs love. They are not as high in sugar as other fruits, and they contain plenty of vitamin C, fiber, and potassium for your puppy to enjoy with every slice. However, you will have to peel the oranges and take the seeds out before feeding them to your puppy.
Peaches can also be a delicious snack for your furry friend. You can feed them to your dog fresh or frozen, and they are rich in vitamin A as well as fiber. It is essential to avoid canned peaches as they contain a high amount of sugar.
Pears are just as good for your dog as they are for you. They contain vitamin C and K as well as copper and other minerals. However, it is vital to eliminate the seeds as they contain cyanide, and your dog shouldn't swallow them. Also, stay away from canned pears with extra sugar added.
Pineapples are tasty and very healthy for your dog as well. Pineapple contains the enzyme bromelain. This enzyme is ideal for helping your puppy assimilate the protein in their diet. Besides bromelain, pineapples are packed with minerals, fiber, and vitamins.
Raspberries and strawberries are also a great choice when you want to offer your puppy a healthy snack. If you feed your dog raspberries and strawberries in moderation, they will enjoy the antioxidants, vitamin C, and fiber present in these fruits. These fruits are great for older dogs as they come with excellent anti-inflammatory properties. But it is important to not feed your dog more than one cup of raspberries a day as they contain xylitol, which can be toxic for canines in large quantities.
Apples are some of the fruits your dog can safely eat. They bring vitamin C, A, and plenty of fiber to your dog's diet. Your dog can eat apples fresh or frozen, and they are perfect snacks for older dogs.
Suggested Reading:

Fruits to avoid for your dog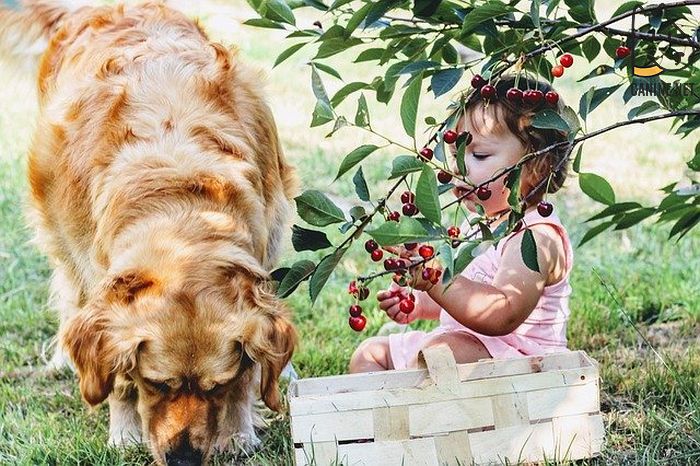 Avocado is one of the main fruits you should avoid when it comes to your dog's diet. Even if an avocado is one of the best choices for humans, you want to think twice when it comes to your pet. The problem with avocados is that they contain persin. This toxin can be found mostly in the pit, the peel, and the fruit leaves, and it can cause digestive problems to your dogs, such as diarrhea or vomiting. The flesh of the fruit is not safe either. Even if this part of avocado contains less persin than the rest of them, it is still dangerous to your dog.
Cherries are another no-no for your dog's diet. They contain significant quantities of cyanide, which is toxic to dogs. Cyanide can prevent the dog's blood cells from getting enough oxygen. The most common signs of cyanide poisoning are difficulty breathing, dilated pupils, and red gums.
Grapes should also be avoided as they are not suitable for your dog. Both grapes and raisins are toxic for canines, regardless of their breed or age. The risk with grapes is that they can generate kidney failure in your dog, which could be fatal. If you think your puppy ate some grapes, take them to the vet immediately.
Tomatoes are fruits as well and also not the right choice for dogs. The green part of the tomato plant and tomatoes that are not ripped contain solanine, which is toxic for dogs. Even if your dog will have to eat a lot of the tomato plant's green part to get sick, it is still better to avoid it together.
Suggested Reading:

Why Feed Fruit to Dogs?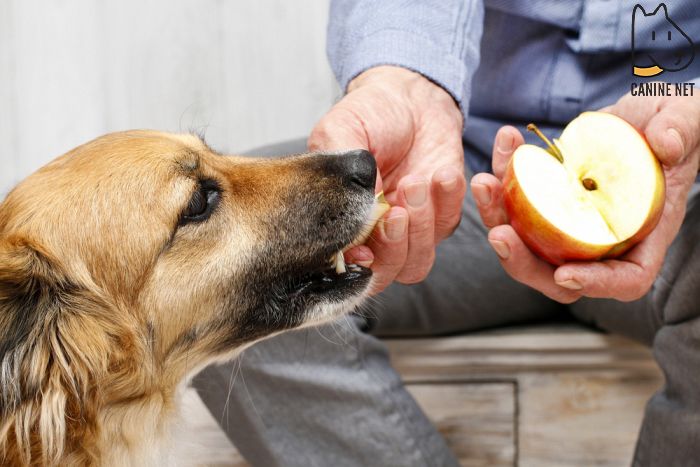 As we mentioned, not all fruits are bad for your dog. Most of them come with vitamins, minerals, and antioxidants that can improve your pet's health.
It is important to remember that dogs are carnivores, so they don't need fruits in their diet. However, even so, they will benefit from the nutrients found in these delicious treats.
A balanced amount of fruits that are good for your dog can give them energy and even help them overcome certain conditions. Some fruits have anti-inflammatory properties that improve joint health.
By giving your dog the fruits right for them, you can skip adding supplements to their diet.
Suggested Reading:

Can My Dog Eat Fruit?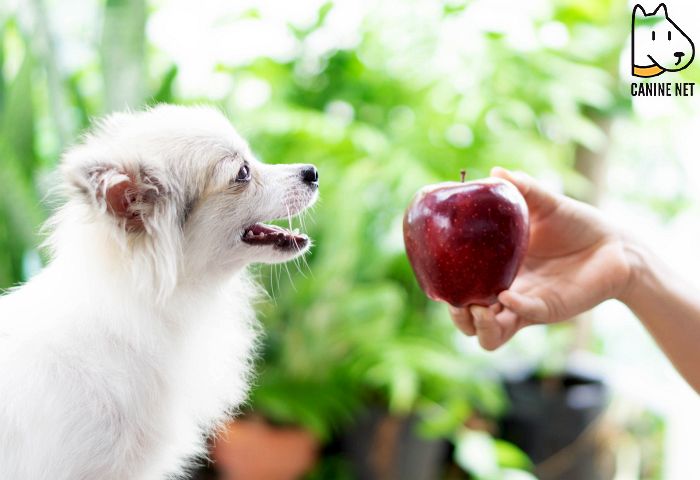 Yes, your dog can eat fruit as a snack but not as a meal. Fruits are not something dogs need in their diet but can bring certain benefits thanks to their nutrients.
Choose the fruits you feed your dog carefully and always research for potential side effects. It is equally important to watch how your dog reacts to the new fruits you introduce to their diet.
If you notice any side effects, don't hesitate to talk to their vet and skip the fruit that generated the discomfort.
Another aspect you need to keep an eye on is the potential choking hazard. When you feed your dog fruits, always remove the seeds and core of pears, apples, and the pit of other fruits such as peaches.
The fruit slices or cubes' size will not be a danger as your puppy can bite and chew safely but make sure you don't cut the fruits in pieces that are too small.
Suggested Reading:

Why should you include fruits & vegetables in your dog's diet?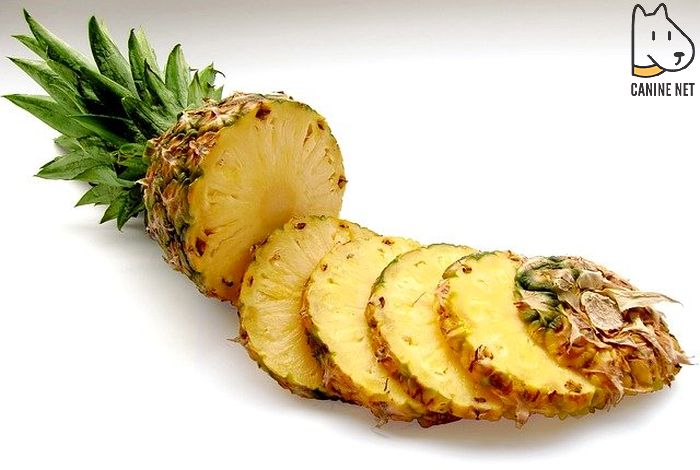 Adding fruits and veggies to your dog's diet can help them stay healthy and strong.
The vitamins and minerals in these foods can also support your dog's joint health, muscle strength and reduce age effects in senior dogs.
Fruits can also be refreshing in the summer, especially if you freeze them and offer them as a snack during those hot days. They can replace water, which is a great thing for dogs that tend to drink too much water.
We can't neglect the fact that the nutrients in fruits and veggies will help improve and support your dog's immune system.
If you purchase dog treats, you will notice that they come with a high amount of calories.
However, fruits and veggies come with a reduced amount of calories and are packed with vitamins, fiber, and minerals.
Suggested Reading:

Does my dog have an allergy to a specific fruit or vegetable?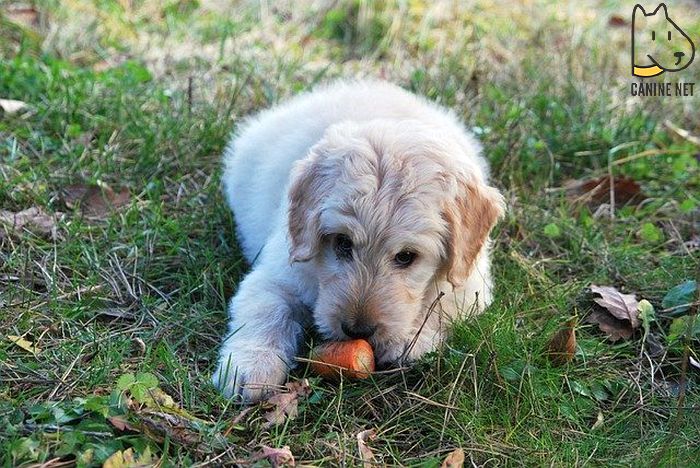 Just like humans, pets can develop certain allergies to food as well. Even if a fruit or a vegetable is considered safe for your dog, it doesn't mean they will not have side effects if they have an allergy.
To understand if your dog is allergic to a particular fruit or veggie, you will have to be able to recognize the signs of such an allergy.
If your dog has an allergy to a particular fruit or vegetable, you will most likely notice signs of skin itching or inflammation, skin infection, ear infection, bloating, excessive shedding, vomiting or diarrhea, and even depression.
Dogs that are sick or experience one or more of these uncomfortable symptoms will have a mood change and less energy than usual.
It is essential to contact your vet as soon as you notice such symptoms and identify the cause of such a problem.
There are also severe allergy symptoms such as red gums, dilated pupils, dehydration, swelling, hives, difficulty breathing. Keep in mind that allergic reactions can be fatal for dogs if it is left untreated.
Suggested Reading:

How Much Fruit Should Dogs Eat?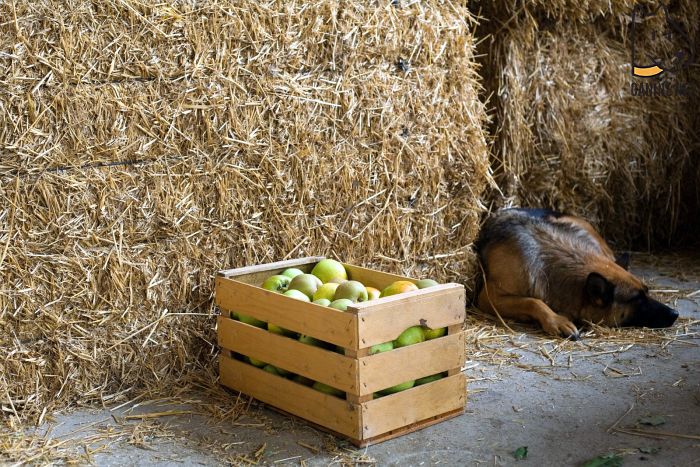 Fruits will not harm your dog as long as you give them to them in moderation.
No matter how safe fruit is for your pet, limit the quantity to a maximum of a cup a day.
Even if your dog seems to like a certain fruit and wants to eat it all the time, stick to the quantity that is safe for them.
Remember that fruits can't and shouldn't replace a meal for your pet. They need protein, and they are mainly carnivores, so they will not have good health on a fruit and veggie diet.
Suggested Reading:

Why does pineapple stop dogs from eating poop?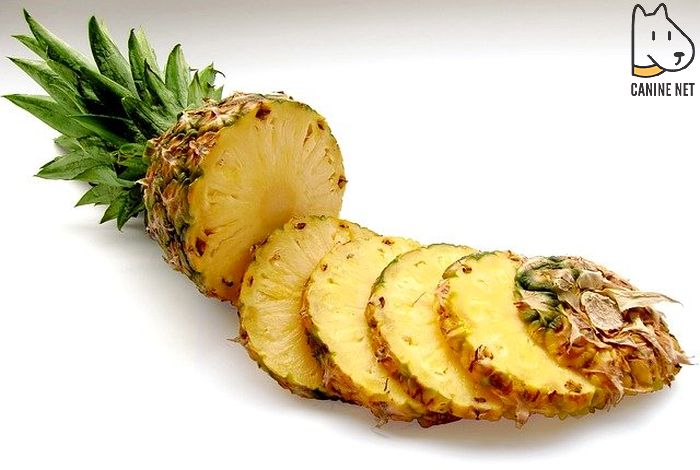 We listed pineapple as one of the safe fruits for your dog. But this fruit has more benefits than the obvious ones.
Pineapple can stop your dog from eating their poop.
Many dogs eat their poop as this is a condition called coprophagia. This habit can be stressful for owners who naturally want to put an end to it. Some experts explain this habit as a lack of nutrients in the dog's diet.
If their body still craves certain nutrients or doesn't eat enough food, some dogs will start eating their poop. But this habit can also be a behavioral issue or a way to increase the dog's appetite.
There is no scientific evidence that supports the idea that pineapple will stop your dog from eating their poop. Even so, many owners noticed that pineapple does have this effect.
A potential explanation is that this fruit will alter the taste of the poop, so your dog will not find it as appealing. Another theory is based on the fact that pineapples help your dog assimilate protein from their food better, so they will not feel the need to eat their poop as often.
If you want to give this theory a test, make sure you don't overfeed pineapple to your dog. A cup of pineapple a day should be enough to notice if it makes a difference or not.
Keep in mind that all dogs are different, so you can't expect them to react the same way.
Suggested Reading:

What fruits are bad for dogs, and why?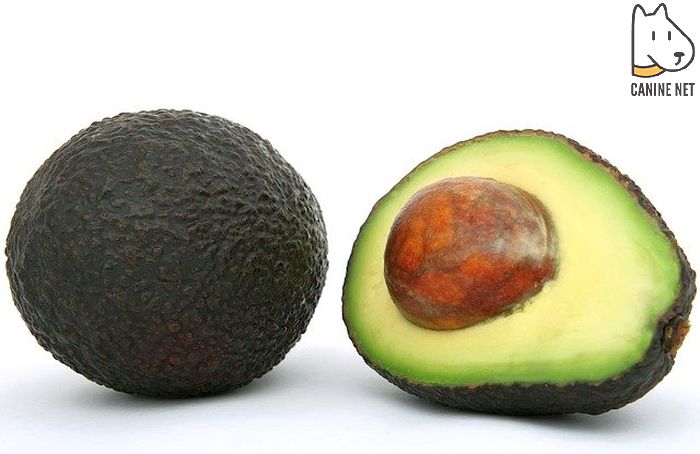 | | |
| --- | --- |
| Avocado | Contains persin, which is toxic to dogs |
| Cherries | Contain cyanide, which is toxic to dogs, Choking hazards |
| Grapes and raisins | Can lead to kidney failure |
| Tomatoes | Tomato plant contains solanine, which is toxic to dogs |

If you want to offer your dog a healthy and tasty fruit snack, it is essential to keep in mind the risks and the benefits of such foods. Avoid the fruits that are not safe for your dog and stick to those that will improve their health and energy level.
No matter how healthy fruit is for your dog, it is essential to respect the recommended quantity of only one cup a day. If you notice any side effects or allergic reactions in your pet, always contact your vet and skip feeding them the fruit that caused such symptoms.

Key References