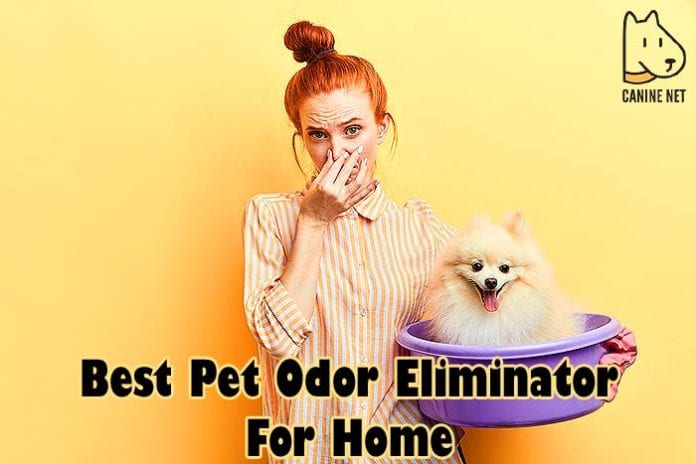 Pets are a blessing for each home, but some people might not be thrilled by the odor some pets leave in the environment. Some pets leave a more strong odor than others, but they can all be kept under control with a good pet odor eliminator.
Best Pet Odor Eliminator For Home
Our Pick
To recommend you the best pet odor eliminator, we went for the Cozmor air purifier, which is also the first product in our selection. We love the medically certified HEPA H13 filter that eliminates other airborne particles in your air beside the pet odor.
We ♥ honesty! Canine Net earns a commission through the following hand-picked links at no extra cost to you.
We put together an ultimate guide to help you choose the best pet odor eliminator for your home. So, keep reading to understand what is the best way to keep your pet's odor under control.
Best Pet Odor Eliminator For Home – Comparison Table
Filter
HEPA, 2 carbon filters, pre filter
Eliminates
Pollen, smoke, dust, pet dander, pet odor, virus carriers
Smoke, dust, pet odor and other unpleasant odors
Smoke, dust, pet odor, pollen, pet dander, pet fur
Smoke, dust, pet fur, pet odor, pet dander, allergens
Pet odor and other unpleasant odors
Certifications
ETL listen, CARB certified, FCC certified
Coverage
1000 sq ft / h, 250 sq ft 5x per h

What to look for in a pet odor eliminator?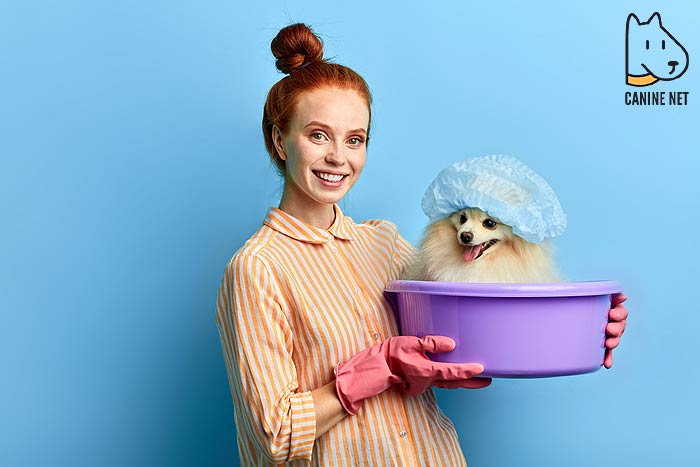 If you never purchased a pet odor eliminator, you have several aspects to pay attention to before you pull your credit card out.
A) Coverage
Your air purifier coverage is critical as you want to enjoy fresh air in your entire space. You will find purifiers that cover small, medium, or large rooms, and you should know the surface you need to clean before you purchase one of them. A great air purifier will clean the air in your entire room and offer you a new environment all day long.
Suggested Reading:

B) What does it eliminate?
Another aspect you need to check is what kind of airborne particles the devices eliminate. Most air purifiers will get rid of pet odor as well as other odors. But you can find purifiers that eliminate pet dander, pet fur, dust, mold, allergens, and other toxic airborne particles.
Suggested Reading:

C) Filters or no filters
There are air purifiers that use filters, as well as others that use ozone and ions. The ones with filters tend to be much more efficient in purifying your air, primarily if they use HEPAfilters. But the ones without filters require no replacements or additional accessories to purchase. So, you will have to balance these aspects before purchasing your pet odor eliminator.
Suggested Reading:

D) Portability
The portability is quite significant as well. You want to be able to move your air purifier exactly where you need it. So, make sure to invest in a lightweight device and easy to place in the room you will spend most of your time in so you can enjoy its benefits the most.
Suggested Reading:

Best Pet Odor Eliminators for Home
The following products will help you to keep the pet odor under control with little to no effort. They are easy to use and very efficient.
1. Cozmor Air Purifier for Home Large Room with Auto Sensor and HEPA H13 Filter
This air purifier from Cozmor will make sure your house has a pleasant scent all day long.
The simple and modern design of this air purifier makes it a pleasure to have in your home. It is white and will blend in with any background without standing out.
The HEPA H13 Filter will eliminate up to 99.98% of airborne particles, leaving your air fresh and pleasant to breathe.
Each filter comes with a runtime of 3000 hours before you will need to replace it. It is easy to replace, and you will have no problem finding these filters on the market either.
While you leave this air purifier on, there will be no unpleasant odor in the room. It will not generate any plastic smell either.
A significant aspect of this air purifier is that it is portable to move it everywhere you want. It is ideal for bringing it with you on vacation as well.
This air purifier is ideal for filtering pollen, smoke, dust, pet dander, and pet odor of all kinds.
The noise this device will generate is 24 dB which allows you to sleep without being disturbed.
This best odor eliminator is child and pet safe thanks to its design that doesn't allow children or pets to get hurt or modify the purifier's settings.
Pros
Eliminates pet odor, pet dander, smoke, or pollen.
Easy to use
HEPA H13 filter lasting 3000 hours.
Reduced noise
Child lock
Cons
Filters need to be replaced.
Pricier than other similar products.
Check Price on Amazon

2. Air Purifiers Plug-In for Home, Mini Odor Eliminator
Another air purifier that will keep pet odor away is this Cornmi model that is also very small.
This is a mini plug-in air purifier with reduced dimensions of 6.2 x 3.7 x 1.8 inches. The weight of the item is only 8 ounces as well, and it has a very discreet design.
The combination between ozone and negative ions will make this air purifier absorb pet odor, smoke, and other unpleasant odors. Your home will have a fresh smell at all times.
You can choose between three types of air purification. The green light is for the negative ions mode, the blue light stands for the ozone timing mode, while the red light is for the ozone cycle.
This best pet odor eliminator for couch will not produce disturbing noise, and you can use it in any room of your house. The maximum sound level is 30 dB, so you can sleep with this air purifier on as well.
There is no need to use any extra filters or accessories. All you have to do is plug in the air purifier and enjoy fresher air in your home.
The coverage area is anywhere between 54 sq ft and 323 sq ft.
Pros
Easy to use
Low maintenance
Three modes available
No filters needed
Reduced noise
Cons
Covers smaller rooms
Doesn't eliminate pollen or allergens.
Check Price on Amazon

3. LEVOIT Air Purifier for Home Large Room with H13 True HEPA Filter
This Levoit air purifier will not disappoint you either, as it will get rid of all pet odors in your home.
Finding replacement filters for these air purifiers will not be a problem. Also, replacing the filter is relatively easy as well.
This air purifier will eliminate so much more than pet odor. It will help you get rid of pet dander, lint, and different allergens. You will get rid of pollen, mold, dust, and fur.
The HEPA True H13 filter will capture up to 99.97% of airborne particles while this air purifier is on.
You will like the coverage of 500 sq ft in 30 minutes and 300 sq ft in only 18 minutes. This coverage makes the air purifier ideal for living rooms, kitchens, and bedrooms. Still, you can also use it in any other space.
It comes in a compact design, and you can move it from one room to another quickly.
This best pet odor remover is ETL listed, and CARB certified as well as FCC certified.
Pros
Captures allergens and pet dander, pet odor, and pet fur.
Saves energy
Covers up to 500 sq ft.
Easy to use
Portable
Cons
Louder than other air purifiers.
Heavier than other products.
Check Price on Amazon

4. Hamilton Beach TrueAir Air Purifier for Home or Office with Permanent HEPA Filter
This Hamilton Beach TrueAir purifier will also significantly reduce pet odor and other odors in your home.
This air purifier has three modes of filtration, so you can use it according to your needs. A permanent HEPA filter will eliminate airborne particles and pet dander and two carbon filters to eliminate odors, and a pre filter that eliminates pet fur and larger particles.
You will be glad to find out that this air purifier captures up to 99.97% of pet dander, pet odor, allergens, smoke, dust, and other airborne particles in your space.
You can vacuum the HEPA filter so you will not have to replace it, reducing the extra investments significantly.
In terms of noise, this has a quiet mode, so you can leave it on even when you are sleeping, and it will not bother you.
The coverage is 140 sq ft which is why you should place this air purifier close to you, so you make sure you enjoy the fresh air the most.
Pros
Three designs to choose from.
Quiet function
HEPA filter, carbon filters, and pre-filter.
Eliminates up to 99.97% of airborne particles.
Easy to use and clean.
Cons
No certifications
Louder than other products when is on regular speed.
Check Price on Amazon

5. Zero Trace Pure ION Odor Neutralizer
The Zero Trace Puro ION is an ideal device for homes with pets. It is very efficient in eliminating pet odors and other unpleasant particles in your air.
This pet odor eliminator for carpets comes in a Home odor neutralizer and a pet odor neutralizer version, so you can choose which one is best for your place.
You can use this purifier in your home or in your car, and it will be just as efficient in offering you fresh air to inhale.
This pet odor neutralizer with enzymes works with a mix of positive and negative ions that remove unpleasant odors fast, cleaning the air in your space.
It has a timer and motion mode to use it accordingly and is safe for both pets and children in your home or car.
This device can sense motion from 16 feet away, and it will activate its purifying function right away.
There is a quiet function for the noise so you can rest without being disturbed by this air purifier.
Pros
No replacements needed
Suitable for home and car.
Pet and child friendly.
Motion and timer sensor.
Quiet function available
Cons
Smaller coverage compared to other products.
Not as powerful as other air purifiers.
Check Price on Amazon

Frequently Asked Questions
Q: Are air purifiers safe?
A: Air purifiers are safe for adults, children, and pets. They will clean the air of toxic airborne particles and improve its quality. As long as you use the device according to the instructions it comes with, there are no risks attached to such a product. If there are children in your home, it will be a good idea to get an air purifier with a child lock, so you don't expose them to any danger.

Q: Should I place the air purifier next to my pet's bed?
A: Air purifiers with a small coverage will work best next to your pet's bed as they will eliminate the odor in that area. But if you invest in a device with extensive coverage, you can place it anywhere in your house, and it will clean the air in your entire room.

Q: Can an air purifier reduce symptoms of allergies?
A: If you invest in an air purifier that eliminates virus carriers and other airborne particles responsible for allergies such as pollen or dust, then yes. You should notice fewer allergy symptoms in the first few days of using such an air purifier. But not all of them eliminate allergens.

Q: How often should I replace the filter?
A: The manufacturer will specify the frequency with which you will have to replace the filter if you chose a filter air purifier. Some HEPA filters are permanent, so you will replace them quite rare, while others come with a set number of hours. Make sure to check the specifications and respect the filter replacement timeline, so you make the most out of your purifier.

Q: Is it safe to leave the air purifier on the entire time?
A: Depending on the type of air purifier you purchased, you might be able to use it on an automatic function. If the device comes with such a function, you can safely leave it on even if you go to bed or leave your house. Check the instructions to make sure there are no risks involved.

Top-Rated Pet Odor Eliminator For Home
Our Pick
The Cozmor air purifier wins first place in terms of pet odor eliminators for several reasons.
It gets rid of much more than just pet odors. This air purifier will clean your air of pollen, virus carriers, mold, dust, smoke, pet dander, and other unpleasant odors in your home.
The fact that this air purifier comes with a child lock makes it a safe device to have in your home for your kids and for your pets.
We love the fact that it has a simple yet very modern design that will add aesthetic value to your place as well.
On top of all these benefits, the comprehensive coverage of this purifier is also a big advantage.
Investing in a pet odor eliminator is an excellent decision for your entire family. Breathing fresh and clean air is vital for the health of everyone living in your home.
You can choose your pick from our selection and enjoy your fuzzy friends without having to inhale unhealthy airborne particles.

Key References
"Doggy Odor – Veterinary Partner – VIN". Accessed March 15, 2021. Link.