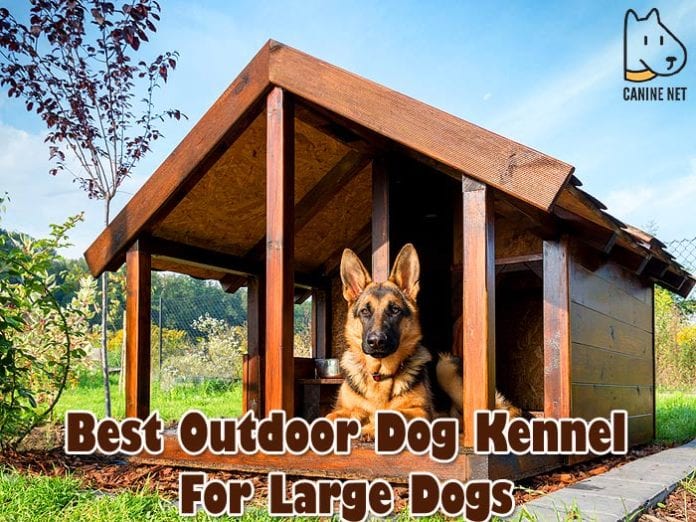 Best Outdoor Dog Kennel For Large Dogs: Your puppy's outdoor kennel will be their home and private space. So, you want to make that as comfortable for them as possible. Choosing the best dog kennel is not as easy as it might seem. There is a wide variety of kennels on the market, and not all of them will be suitable for your puppy.
Sale
We ♥ honesty! Canine Net earns a commission through the following hand-picked links at no extra cost to you.
We put this complex guide together so you can make the best decision and give your dog the ideal kennel. You will also find a selection of the best kennels on the market, so you don't have to spend hours researching. So, without further due, let's find the kennel that your dog will love!
Best Large Dog Kennels – Comparison Table

Can I leave my dog in his outdoor dog kennel alone?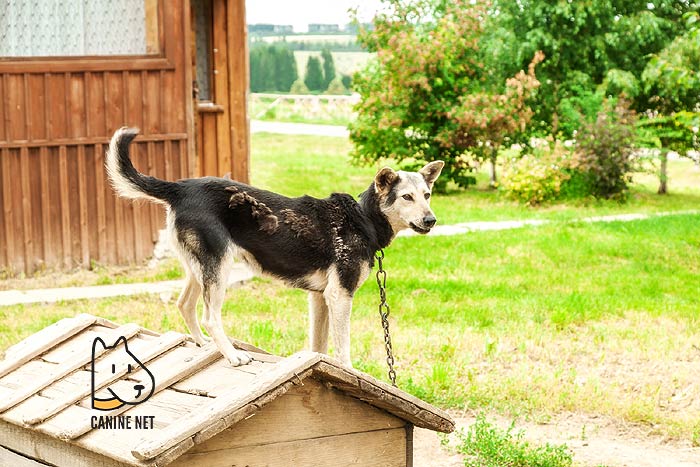 The primary purpose of having a kennel for your dog is to offer them a safe space outside where they feel comfortable. But it is important not to let your dog alone in the kennel for extended periods. You should check on them regularly and make sure they are safe and have all the supplies they need.
If your dog spends most of its time outdoors, you should leave the kennel open so they enter it at their convenience. To do that, provide a safe yard with a fence that will keep your dog safe to run around during the day.
When you lock your dog in the kennel, it shouldn't be more than a couple of hours. You don't want to leave them locked in overnight. Your puppy will need food and water as well as potty time.
Consider all these aspects when you lock them in their kennel, as these are necessities you can't oversee for the well-being of your furry friend.
However, if you have to leave your dog alone inside their kennel, make sure to check on them regularly. Ensure your dog has all it needs and is not stressed or in any type of physical discomfort.
Dogs can also get depressed if locked in kennels for more than a couple of hours, so you want to go to them and show them some attention and affection to keep their emotional and psychological balance.

How big of an outdoor dog kennel do I need?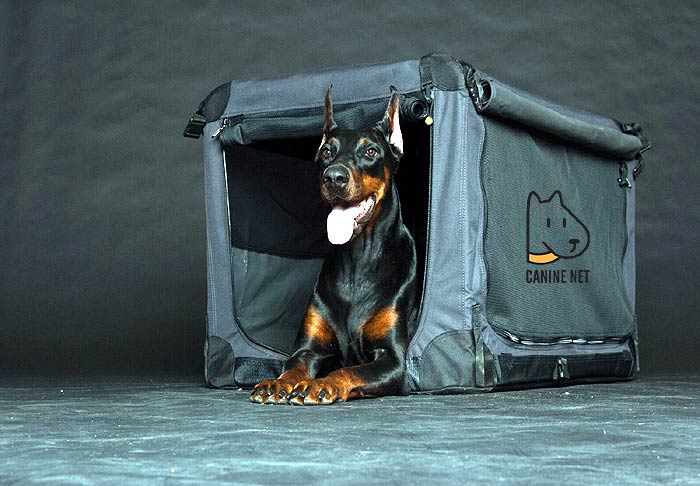 The size of your dog's kennel will depend significantly on the size of your dog. You want them to have enough space to feel comfortable and also safe. Also, the age of your dog is just as important.
If you want to have the same kennel from puppy days until adult dog days, you will have to consider their size as an adult so they can grow into it. But ideally, you should replace their kennel as they grow older, so it accommodates them better.
First of all, you should invest in a kennel with a shelter so your dog can stay in it during all weather conditions. This is important even if you live in a warm climate.
Second, large dogs will require larger kennels as well. According to the American Society for the Prevention of Cruelty to Animals, you might want to consider choosing between two sizes when it comes to the perfect kennel.
One size is ten feet by ten feet as it comes in a square shape, and another size is 5 feet by 15 feet, coming in a rectangular shape.
For a large dog, you might need a kennel longer than 15 feet, and luckily, there are such options. You can also purchase different panels compatible with your dog's kennel to modify its size.
You can find all the different kennel sizes according to your dog's size and even their breed on the Association of Professional Dog Trainers. Regardless of the available sizes, however, it is wise to measure your dog and choose the right kennel size for them.
Suggested Reading:

Why Owners Use an Outdoor Dog Kennel?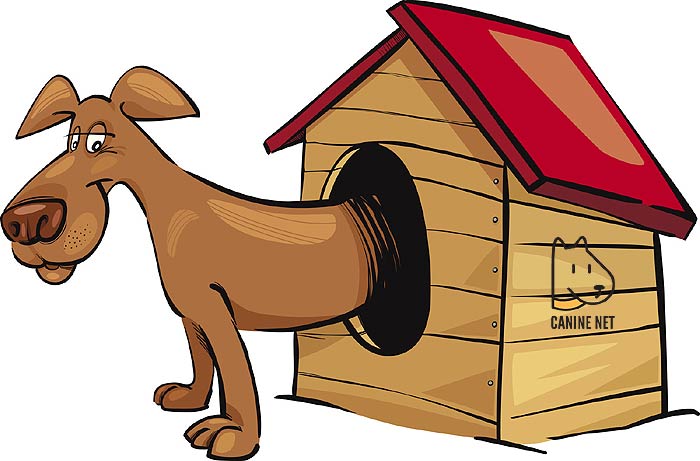 If you are wondering why you should invest in an outdoor dog kennel, there are two main reasons to do that: your dog's safety and comfort. Your dog will need their own space, and you can't provide that for them unless you offer them a kennel.
An outdoor dog kennel will offer your dog protection as well. They can stay in it during challenging weather conditions as long as the temperatures are not extreme. They will have shade and be safe at all times if you choose the right kennel for them.
Such a kennel will offer your dog comfort too. You can add different accessories to your dog's kennel to make it as cozy as possible. Put their favorite toys in their as well as soft blankets that you maintain clean.
The safety aspect doesn't just concern your dog but also other members of your family or your guests. If you are worried that your dog might harm your children by accident, which can happen with large hyperactive dogs, putting them in an outdoor kennel is best.
By doing so, you give your kids time to play in the yard without taking any risks. However, a well-trained dog will not harm anyone, not even by accident, but you can never be too cautious.
Also, you have to consider that kennels come at a better price than a fence. If you have an open yard, this could create a hazard for your dog's safety.
So, as you allow them to enjoy some time outdoors, putting them in a large kennel might be the best solution.
Suggested Reading:

Who Should Buy an Outdoor Dog Kennel?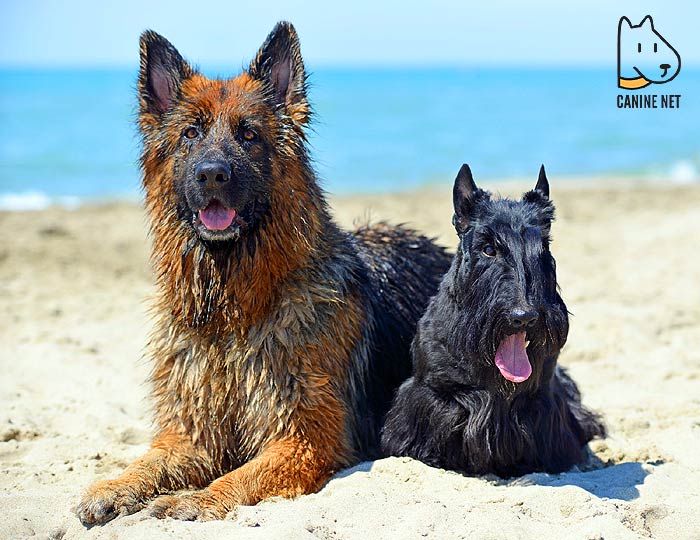 As efficient as outdoor kennels for dogs might seem, not all owners need to invest in them. There are several reasons why you should get one of these kennels for your dog.
For instance, if your yard is not fenced, purchasing an outdoor dog kennel is a great choice. This allows your dog to have outdoor time without exposing them to any hazards.
Another reason is the safety of other members of your family, your friends, or your guests. If your dog is not completely trained yet and you fear it might present danger for those around him, using a kennel will help keep everyone happy.
Dog kennels are fabulous for training your dog as well. They are used in several training techniques, from potty training to learning new tricks.
If your dog has a bad habit of stealing food or bother you when you are enjoying your family meals, you can confine them in their kennel until the food temptation is out of their sight.
The possibilities of using a kennel to train your dog are endless.
Suggested Reading:

What are the differences between outdoor kennels and dog houses?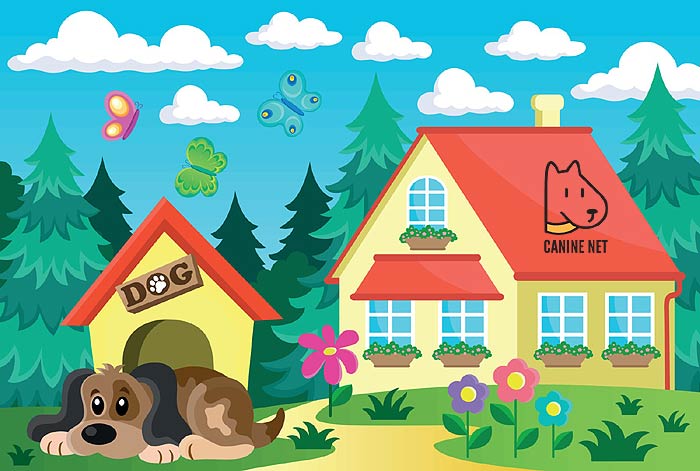 Outdoor dog kennels might be similar to dog houses. Still, there are undoubtedly significant differences that you should be aware of. Understanding these differences will help you make the best investment for your dog's comfort.
To begin with, dog houses are usually smaller than kennels. Your dog should have space to be a bit active inside the kennel, while a dog house makes for a great sleeping area that also offers some shelter.
Another difference is that dog houses tend to have more coverage. They are made of either wood or metal, but they don't have bars. Instead of bars, which are typical for dog kennels, the dog houses have panels covering their entire walls.
A dog house can even look like a mini house, and often they do. While kennels have a square or rectangular shape, a dog house can have a door and a roof.
Also, the heating system is usually better in a dog house. If you plan to have your dog outdoors during cold temperatures, investing in a dog house might provide better protection against extreme temperatures.
Adding extra heating systems could also be an option for a dog house.
Last but not least, dog houses are not used for training dogs as kennels might be. Because they offer a smaller space, these shelters can't fulfill any dog's training needs.
So, if you want to also train your furry friend, investing in a large kennel will be your best option.
Suggested Reading:

Are outdoor kennels suitable for dogs?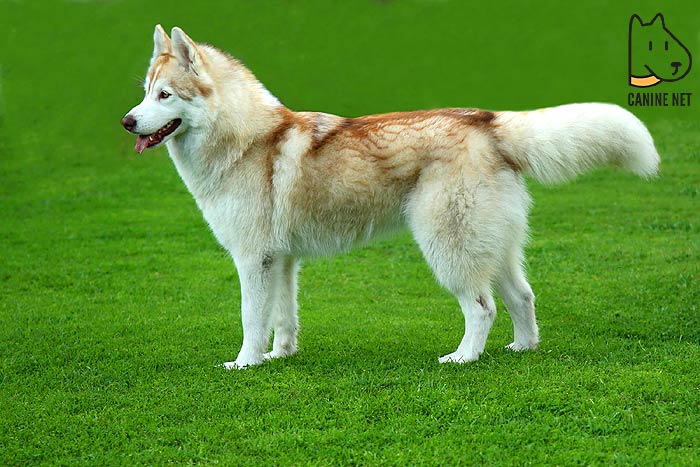 Outdoor kennels can bring a lot of benefits to your dog as long as you use them properly. Dogs love to have their own space, and a good kennel offers them just that.
If you don't leave your dog in their kennel for hours without checking on them, they will love their private time in there.
If you do make a mistake to leave your dog in the kennel for too long, they might start developing adversity towards it. They will be scared of being locked in the kennel and not enjoy their time in it at all. But this aspect is entirely in your control.
If you choose the right kennel, your dog will enjoy the safety and comfort they have in it. Plus, they will love their outdoor time without being exposed to any potential risks.
It is also essential to mention that a kennel will offer your dog mental and physical stimulation, which they will love to have.
Your dog will be visually stimulated by seeing all the outdoor background from their kennel. This will calm them down and help them maintain balanced mental health.

Are Outdoor Dog Enclosures safe?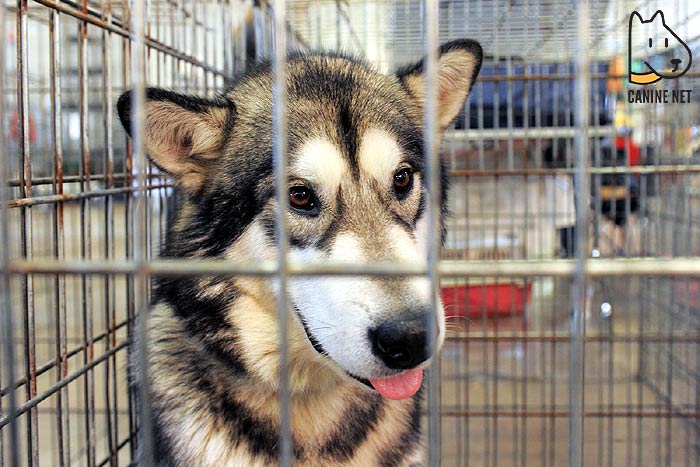 Used correctly, outdoor dog enclosures are entirely safe for your furry friend. You can find dog enclosures with or without a roof as well as in different sizes.
Choosing the one that your dog will appreciate the most is essential for their safety and comfort. You can also choose enclosures such as kennels or dog gates, as well as a fenced area where your puppy can play as they please.
If you choose a kennel as a dog enclosure, your dog will be safe in the right size of the kennel. They should be able to turn however they want, stand up and even do some jumping exercises while they are in there.
Equally, when you choose a dog gate or a fence, go for one that is tall enough to keep your dog inside the perimeter you decide.
Large dogs tend to see fences as a challenge, and they might make a point from jumping over them. You have to make sure they will not be able to do that to keep them safe.
Each dog is different, so you should estimate how tall the gate or fence has to be according to their jumping abilities.
Note: It is important to not punish your dog by sending them to the enclosed area. This will make them dislike that space, and it will work against its benefits.
Teach them that the kennel or the area limited by the fence or gate is their safe space. Play with them while they are confined and add toys to make the space more comfortable. Training your dog to like their time in the enclosed space also involves training them to respect the limits you set up.

How do you clean an outdoor dog kennel?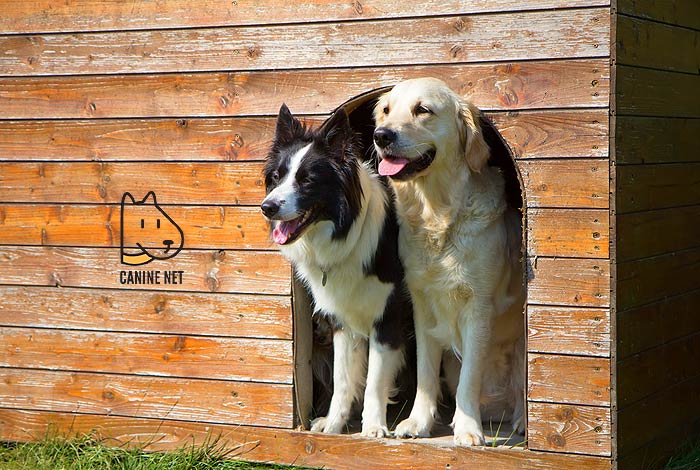 Regardless of the type of kennel you choose, you have to maintain it clean at all times. Your dog will not like to spend time in a dirty kennel, and chances are that you will have to clean it regularly.
Cleaning your dog's kennel is not complicated, and if you have a cleaning schedule, you will not have to struggle with it at all. Here are the best steps to follow when you need to clean your dog's kennel!
A) Empty the kennel
It is essential to make sure the kennel is empty and your dog is not inside of it before you start cleaning.
Place your dog in a safe location and put their toys and blankets outside of the kennel.
Evaluate if these might need to be cleaned as well since you are doing this process.

B) Start cleaning from the top down
Always start cleaning your dog's kennel from the top and work your way down towards the base.
You make sure that any dust or dirt on the top of your kennel will fall on the base as you clean it.
Such a cleaning strategy will make the process a lot easier.

C) Use the right products
The best cleaning products you can use are those that are labeled as pet friendly.
Your dog will most likely lick the kennel too once you put them back inside, so you don't want to use any toxic product.
Use a disinfectant spray on each var of the kennel and wipe it with a clean cloth or towel.
If there is a lot of dirt on the kennel, you can use a high-pressure water hoe as well.

D) Add your dog's accessories back in the kennel
Before you add the toys and clean blankets back in the kennel, make sure to give it enough time to dry.
Once your kennel is dry, you can start adding all your dog's arsenal inside of it.
Make sure you give your puppy time to get used to the kennel's clean scent as they will sniff it and roll inside of it a lot.

What to look for?
If you never purchased an outdoor dog kennel before, it is essential to know what you are looking for. Not all kennels are the same, and not all of them are good for all dogs.
Here are a few essential tips to consider when you invest in an outdoor kennel for a large dog!
A) The size of the kennel
If the kennel you choose is too big or too small for your dog, they will not feel comfortable in it.
So, try to follow the needs your dog has according to their size.
Though each dog is different, so consider how active they are too when you choose their kennel.
Large dogs should be able to turn around, roll, and stand in their kennel without any restrictions.

B) Choose a kennel that offers shelter
The market offers kennels with a roof as well as kennels without a roof.
Being it an outdoor kennel, you might want to invest in one that has a roof.
By doing so, you offer your dog protection against rain and excessive heat.
If you want to invest in a kennel without a roof, make sure to not leave your dog in it when there are such weather conditions.

C) Consider the material of the kennel
You can find dog kennels made out of wood, plastic, or metal.
The wood kennels, as well as the metal kennels, tend to be the most common ones.
But you can also find plastic kennels. However, when it comes to plastic ones, you have to choose a resistant type of plastic.
Go for a material that will not overheat in the sun. Plastic kennels can be easier to clean, but they are not as well insulated as wood ones.
If you live in a humid area, a metal kennel will be more efficient than a wood one and a lot of lower maintenance.

D) Look for the kennel insulation
The insulation of the kennel is quite essential as well.
Wood kennels tend to have the best insulation. In contrast, plastic ones have the lowest insulation level, and metal kennels are somewhat in between.
The good news is that you can improve the kennel's insulation system and even elevate it from the ground a bit.
If you are concerned that your dog's kennel is not insulated enough, you can simply lift it on some bricks and by doing so, it will not be in contact with the ground.

Best outdoor dog kennel for large dogs
Here are the top 5 best outdoor dog kennels for bigger dogs on the market today:
1. Neocraft My Pet Companion Dog Kennel with Roof Cover
One of the best kennels that you can invest in for your large dog is this model from Neocraft.
This outdoor dog kennel with roof comes in the dimensions of 4'W x 4'L x 4.5'T, which is great for large dogs. Your furry friend will have 16 square feet of space to enjoy.
It has a design that allows you to connect it to other kennels if you have more than one dog.
You will find it very easy to set up and take apart as it comes with all the instructions you need. This kennel comes with all you need to install it without having to use any other tools. It shouldn't take you more than a few minutes to put it together in your yard.
A significant aspect of this kennel is that it will be useful both indoors and outdoors. The stainless-steel material of this kennel will allow you to enjoy it for an extended period as well. It will resist various weather conditions without concerns.
Besides the kennel roof, you also receive a waterproof cover that will be very useful during rainy days.
You can use this kennel to transport your pet safely, and it is easy to move, and your dog will be very comfortable inside it.
Pros
Waterproof cover included
Stainless steel material
Works both indoors and outdoors.
Easy to install
Connectable to other kennels.
Cons
Welds are not as resistant as other kennels.
It doesn't come in different colors.
Check Price on Amazon

2. LUCKUP Heavy Duty Dog Crate Strong Metal Kennel
You will appreciate this Luckup outdoor kennel as it has all you need to keep your dog safe.
The frame of this kennel is made of a type of steel that will not rust over time, so you can use it outside with no concerns.
This heavy duty outdoor dog kennel is ideal for both medium and large dogs and is extremely secured. This kennel has two sturdy buckles that will prevent your dog from getting out of it.
It has two different openings, one on the side of the kennel and one on top. While your dog can get in and out through the side door, the top opening allows you to play with your dog, add accessories to their kennel, and interact with them.
The casters that come with this kennel will help you transport it everywhere you want with no struggle.
You will find it very easy to clean this kennel as well. The plastic tray on the bottom of this kennel makes it easy to eliminate any residue inside the kennel.
Putting this kennel together will not take more than five minutes. Everything you need will be inside the package, and you can do it all by yourself.
This secure outdoor dog kennel's dimensions are 37.5″L X 25.5″W X 32″H, so you can count on it for both medium and large dogs.
Pros
Two different colors to choose from.
You get all you need to assembly this kennel.
Perfect for medium and large dogs.
Easy to clean
Two different doors
Cons
Heavier than other kennels.
No cover available for the roof.
Check Price on Amazon

3. Midwest Homes for Pets K9 Dog Kennel
Another kennel that will work great for your furry friend comes from Midwest homes.
A great thing about this kennel model is that it comes in different sizes. This one, in particular, has the dimension of 72 inches x 48 inches x 48 inches. With a rectangular shape, it is very comfortable for all kinds of dogs.
The weight of the kennel is 76 pounds. This might make it a bit harder to transport, but you will not have to. If you set it in the right place, your dog will prefer to keep it there as well.
The kennel comes with a sun protection cover that will keep away up to 80% of sun rays that could create any discomfort to your puppy.
You can safely put your dog in this kennel as they will not be able to break out of it. It has a secure lock that makes it impossible for your dog to escape. Plus, they will love it so much that they might not even try.
The only downside of this kennel is that you can't find it in different colors. But the gray shade of it will look great in any background.
Pros
Different sizes available
Secure lock
Sun protection cover
Easy to install
Perfect choice for both medium-sized and large size dogs.
Cons
It doesn't come with wheels.
No different color options.
Check Price on Amazon

4. Unhg Heavy-Duty Stainless-Steel Metal Dog Cage Kennel
This kennel from Unhg will not disappoint you either. It has all the features you might be interested in, and your dog will most likely love it as well!
This is a kennel with two doors, which makes it that much more functional. It comes with a top opening as well as a regular side door. Both doors have a secure locking system that you can rely on. You can feed your dog and play with them without having them run out of the kennel.
The material of this kennel will not rust over time. It is a sturdy and durable metal with a coating of hammer-tone. You can use this kennel both indoor and outdoor.
If you need to move this kennel around, you will appreciate that it comes with four wheels. You can push it around everywhere you need to have it for your dog to be happy.
You might spend a few more minutes to put this kennel together, but it is worth it. The good news is that you don't need any extra tools to get this job done all by yourself.
There are two sizes available as you purchase this kennel. It is essential to measure your dog before choosing the right size for them.
Pros
Suitable for both indoor and outdoor.
Rust resistant
Two doors kennel
Four wheels included
Increased portability
Cons
More difficult to install than other kennels.
No sun protection roof included.
Check Price on Amazon

5. MidWest Homes for Pets Dog Crate
The last but not the least kennel for large dogs that you can consider purchasing comes from MidWest.
This kennel comes in a wide variety of sizes, so you can choose just the one that will be perfect for your dog.
You will love the fact that this kennel comes with all the accessories you need and even more. Inside the package, you will find a divider panel, four roller feet, a handle, and a resistant tray.
The MidWest kennel can work perfectly both inside and outside as you need to use it.
The locks on this kennel are very secure, so your dog will not be able to escape from it at all.
You find everything you need to put this kennel together inside the box, and it shouldn't take more than a few minutes.
Thanks to its efficient and functional design, portability will not be an issue with this kennel.
Pros
Easy to assembly
All accessories included in the package.
Secure locks
Durable material
Different sizes available
Cons
Only one design available.
No top opening
Check Price on Amazon

Frequently Asked Questions
Can outdoor kennels be used indoor?
There are different types of outdoor kennels. While some are great for both outdoor and indoor use, others are suitable only for outdoor use. The manufacturer will specify in the description of the product what is the best way to use your dog's kennel.

How often should I clean the dog kennel?
The best way is to clean the kennel of your dog in detail at least once a week. However, depending on the weather conditions, you might have to clean it even more often. Check the state of the kennel regularly and remove the waste that your dog might create inside of it. If you maintain your dog's kennel clean, not only that they will like it more, but it will be easier for you as well.

Can I let my dog inside the kennel unsupervised?
Your dog shouldn't be left inside the kennel for more than a couple of hours at a time. Leaving them unsupervised for too long can expose them to different health risks and even chronic depression. If you have to leave your dog inside their kennel for more than two hours, it is crucial to check on them regularly and make sure they have all they need.

Sale
Best Outdoor Dog Kennel For Large Dogs
Our Pick
There are many reasons why the Luckup kennel is one of the best on the market, and your dog will be pleased with it.
You can choose it in black or silver to fit your yard the best, and it is effortless to install.
Thanks to the casters that it comes with, you can relocate it at any time.
We love that the steel material of this kennel makes it a long-term investment. You will be able to use it for years to come.
You can clean it in just a couple of minutes, thanks to the removable tray. Simply slide the tray out to wash it as often as you find it necessary.
Choosing the best outdoor kennel for a large dog might not be easy, but it doesn't have to be as tricky as it seems either.
Follow the instructions in this guide and pick the kennel your dog will love without spending hours of online research.

Key References
"ASPCA | American Society for the Prevention of Cruelty to Animals". Accessed January 21, 2021. Link.
"Choosing the Right Crate Size – APDT". Accessed January 21, 2021. Link.