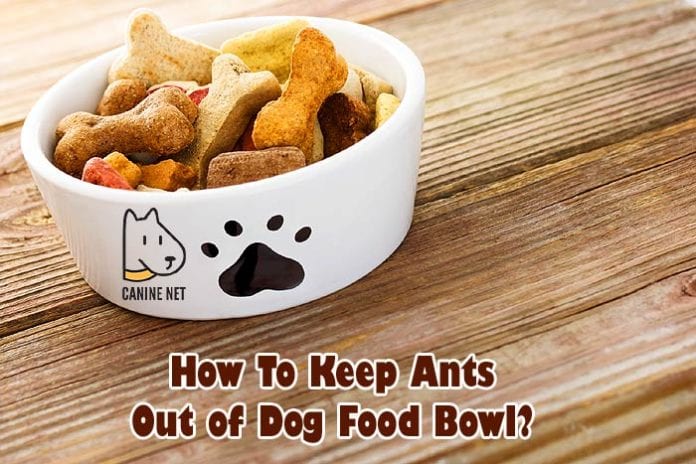 Most pet owners deal with ants invading the dog food bowl. The severity of this problem depends on the environment you live in. If you are dealing with these invasive insects, this guide is for you! Keep reading as we will address everything you need to know to keep them out of your dog's food bowl.
How To Keep Ants Out Of Dog Food Bowl
Our Pick
Our top pick for keeping ants out of the dog food bowl is the Neater Feeder anti ant bowl. It is compact, easy to clean, and you can find it in all sizes you might want for your pet.
We ♥ honesty! Canine Net earns a commission through the following hand-picked links at no extra cost to you.
You will also have to pay attention to how you store your dog's food altogether. The last thing you need is to open the bag with your pet's food and find a bunch of ants in it.
Best Anti-Ant Dog Food Bowls – Comparison Table

Why are ants attracted to dog food?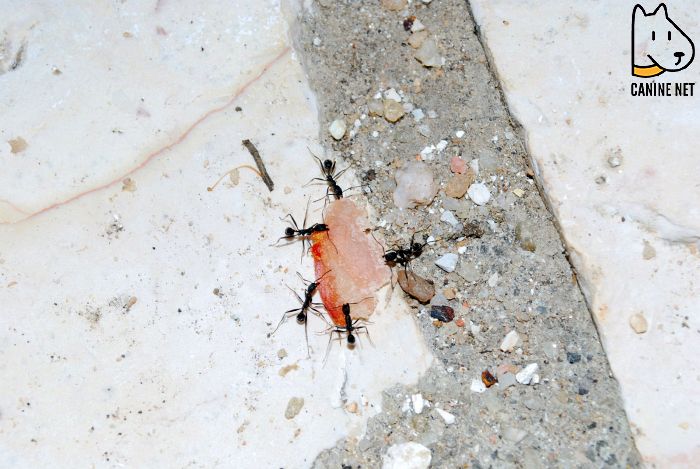 Before we dive into ways to keep ants away, we have to understand why they come around in the first place. Ants have a powerful sense of smell, and they will smell your dog's food for sure. These insects can sense food from meters away, and they are on a mission to get it. Even more than that, ants will leave a scent trail where they find food so they can come back to it faster next time.
They will invade your dog's food bowl and have a meal themselves. Another problem is that these ants don't come in small numbers either. There are usually many of them, and getting rid of the entire clan can be rather challenging.

What kind of ants typically feast on dog food?
There are several types of ants, and all of them will love your pet's food. However, out of 12, 000 species of ants identified, only a few ones will actually bother you. There are four major ant species that you will have to look after nuisance ants, Mound-building ants, carpenter ants, and fire ants.
A) Nuisance ants
Nuisance ants are mostly known for their skill to leave trails towards the food they find. So, it is vital to get rid of the trails if you want to keep these ants away from your home. They will build their colony right outside your home, most often under an object. But these ants can build their nest inside your home as well. So, you will have to pay attention to them and follow them to find their "home".

B) Mound-building ants
Mound-building ants live only outside, but they can occasionally come inside your house to get food. They build mounds and live-in mulch areas or sidewalks. They might not leave trails on their way to find food, but that doesn't mean they have any trouble finding it.

C) Carpenter ants
The carpenter ants can nest in wood, walls, or attics so they can live cozy inside your home. But they can also build a nest in your deck, patio, or other wood surfaces outside your house. They don't eat wood, but they can build tunnels inside of it. Be careful because these ants can also bite.

D) Fire ants
From all these ants, the fire ants are the most determined and the most dangerous. They can bite you, but they also have a stinger. If they sting you a few times, medical attention might be needed. These ants are also the most motivated to get your dog's food.

How To Keep Ants Out of Pet Food?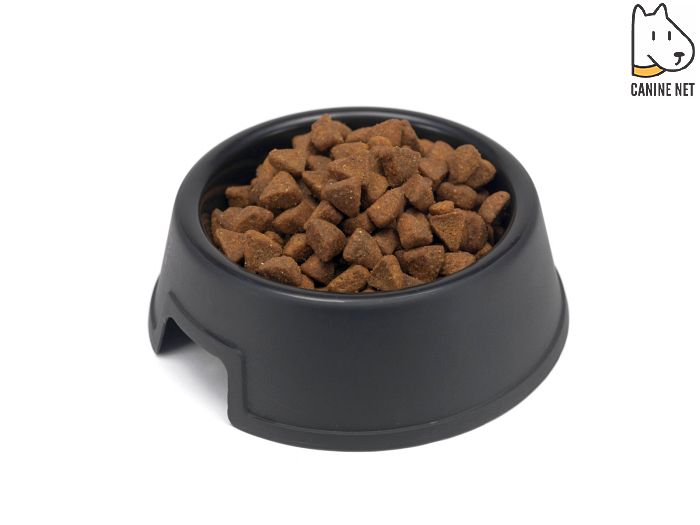 Now that we know that ants will go after your dog's food, let's find the best ways to keep them away. You could do several things to protect your dog's food bowl from these invasive insects.
A) Invest in an elevated food bowl
The best way to keep ants out of your dog's food bowl is to prevent them from reaching it. Several bowls on the market are slightly elevated to make it close to impossible for ants to reach the food. The edges of the bowl are also important. Some bowls are designed with a rift between the exterior edge and the interior of the bowl. That way, ants can't get to the food inside of it.
Suggested Reading:

B) Use peppermint oil
Peppermint oil can do miracles when it comes to keeping ants away from your dog's food. All you have to do is surround the area where "your usually placed your dog's food bowl" with drops of peppermint oil. You don't need a lot of it but make sure it creates a perimeter around the bowl. Ants don't like the smell of peppermint oil. However, make sure your dog doesn't lick the oil. Peppermint oil can be toxic to some pets, so check this aspect first before using this method. To stay on the safe side, you can place the oil on a rug that you put your pet's food bowl on. Chances are that your dog will not start licking the rug, but you have to estimate this according to your pet's behavior.
Suggested Reading:

C) Clean the area well and remove the ant trails
Keeping the area of your dog's food bowl clean is an essential condition. You should use cleaning solutions that are, first of all, pet friendly but also efficient in keeping insects away. It is equally important to clean the ants' trails even if you can't see them. Most likely, you saw the ants walking in line towards the bowl, so you might have an idea regarding the direction they come from. If you are not sure where these trails are or are any at all, just clean on a larger ray around the food bowl.
Suggested Reading:

Ants in dog food safe to eat?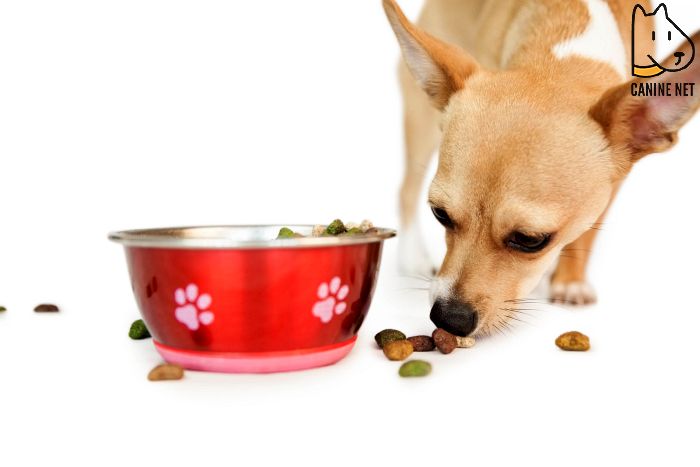 When you notice ants in your dog's food, one of your questions might be: so, what can happen if my dog eats some ants? Will this even bother them? The good news is that some dogs don't mind finding a few ants in their food. On the other hand, other dogs will refuse to touch their bowl if there are ants in it. At the end of the day is a matter of your dog's preferences.
Ants are more of a trouble for owners than for dogs. Healthwise, your dog will not suffer any side effects if they eat ants. The only thing that your dog can suffer from is bites. Ants, especially fire ants, can bite and sting in a way that will irritate your puppy. But otherwise, ingesting a few ants along with their food will not expose them to any risk.
Ants aren't dangerous for dogs, doesn't mean that you shouldn't get rid of them. You don't want any insects in your dog's food or in your house, for that matter.
Suggested Reading:

Are there any poisonous ants in the dog food?
There are no ants that can be poisonous to your dog. If they eat any ants species, chances are they will be fine and not experience any side effects. However, ants can remove nutrients from your dog's food and create an unpleasant environment for them to eat.
If your dog really doesn't like ants, they might lose appetite or refuse to eat even if they are hungry. So, you should make sure that there are no ants in your dog's food for their comfort, and the quality of the food should stay intact so your dog can enjoy it.
Suggested Reading:

What to look for?
If you want to invest in an anti-ant food bowl, you will have to know what you are looking for. Many dog food bowls are anti ants, but not all of them will keep these stubborn insects away in the same efficient way. So, here are the main features to have in mind before pulling your credit card out!
A) Material of the bowl
The material of your pet's feeder will determine the important aspects of such a product. You want a resistant material, but also one that you can clean easily. The best options to go for are resistant plastic and stainless steel. From these two, people tend to prefer the stainless steel one as it is not going to rust, and you can wash it in the dishwasher as well.

B) Simple or double bowls
Some bowls come with one or two compartments. Choosing a double one means you can put both your dog's water and food in the same feeder. This could save you a lot of hassle and stress. The double bowls are also great if you have two pets and want to feed them at the same time. Even if this might create some conflict depending on your pets, it could be an economical option.

C) Anti-ant system
The main reason why you are here is to find a feeder with a tremendous anti ant system. You will see that there are different ones on the market. Some require a special gel to keep the ants away; some are incorporated in the bowls' design, and others are supports for bowls. The ones with an anti ant design are low maintenance and a lot easier to use since you don't need to make any further investment in other anti ant products.

D) Stability
An aspect that pet owners tend to oversee often is the stability factor. You want your dog's food bowl to be stable, so they can't spill the food or the water you put in it. If your pet can easily spill the food, they will make a mess outside their food bowl and attract all types of insects, not just ants. So, it is essential to choose a stable feeder. You can find ones with rubber bases or rubber feet, so you are sure they stay in place while your dog eats their meal.

How to keep ants out of dog food bowl?
The following anti ant bowls are some of the best you can find on the market, so your dog's food stays free of ants and other insects.
1. Neater Feeder Express Elevated Dog Bowls Review
One of the best anti ant pet food bowls you will find on the market comes from Neater Feeder.
You can use this food bowl for both your dog and your cat. Since it is a double bowl is ideal for food and water as well.
Since it is made of stainless steel, you will not have to worry about rust issues. This food bowl could last your dog a very long time.
The design of this food bowl is mess-proof. All the spilled food will remain in the rift between the bowl's exterior edge and the interior side.
Also, the spilled water will be gathered in a basin below the bowl's primary containers, so you will never have to deal with any messes. This food bowl is ideal for small breeds as it has dimensions of 8.8 x 4.8 x 12.9 inches and a weight of 1.3 pounds.
This entire feeder is dishwasher safe, so you can clean it with no struggle.
With its elevated design, this anti ant dog bowl will keep ants and other insects away with no struggle for you.
To make this feeder stable, it comes with rubber feet so it will not move when your dog enjoys its meal.
Pros
Elevated feeder
Dishwasher safe
Mess-proof
Perfect for cats and dogs.
Stainless steel material
Cons
Not recommended for larger breeds.
The top of the feeder comes off easy.
Check Price on Amazon

2.Yuwoda Ant Proof Dog Bowl Tray Review
Another excellent dog food bowl support that will keep the ants away is this model from Yuwoda. Your dog will love their meals a lot more if you place their bowl on this item.
This is single support, so you will be able to use it either for water or food. It is great for both dogs and cats, thanks to its universal design.
No need to use chemicals to keep the ants away from your dog's food. This bowl uses a physical mechanism that simply makes it impossible for ants to get to the food.
You can use this support under your garbage can and other bowls or plates holding food, and it will keep ants away from them.
This support keeps all insects away, not only ants. It doesn't require any electricity, gel, or water as it is efficient by itself.
This anti ant dog bowl comes in a universal blue color that will go great with any environment, so it will not look out of place.
Pros
Protects any type of container.
Easy to use
No electricity or water needed.
Keeps all insects away.
Universal size
Cons
Only one size and color available.
Bowl not included
Check Price on Amazon

3. With You6688 Dog Pet Cat Bowl Review
The last but not the least solution for you to keep ants away from your dog's food is this With You6688 food bowl.
This food bowl is suitable for feeding both cats and dogs. It has a simple design and a double bowl to put both water and food in it.
It comes in a universal blue shade, but the colors might differ as there are more options for this product.
This bowl's capacity is 40 oz or five cups of water in total so your pet can have a full meal from it.
This feeder's design keeps ants away, thanks to the rift that it has on the edge.
This feeder is made of resistant plastic material, so you can count on it lasting for a long time. It is also dishwasher safe, so you shouldn't have trouble cleaning it as often as you need.
Pros
Easy to use
Dishwasher safe
Double bowl design
Anti ants' structure
Perfect for both cats and dogs.
Cons
Not as resistant as other bowls.
Only one size available.
Check Price on Amazon

Frequently asked questions
Q: Can I use a dog food bowl for my cat's food too?
A: Most food bowls are suitable for both dogs and cats. However, if you want to use such a bowl for your cat's food, check to see if the size is what you need. Your cat can't eat from a large bowl meant for large dog breeds. Besides this aspect, you should be able to use such a feeder for dogs and cats.

Q: How often should I replace my dog's food bowl?
A: If you invest in a durable feeder made of a resistant material, you can use it even for years to come. These bowls are made to last, and unless your dog can break them easily, you shouldn't have to worry about durability. It is essential to clean it regularly as well to keep it in perfect condition.

Q: What material is best for my dog's food bowl?
A: The best material for such a bowl would be resistant plastic or stainless steel. You don't want your bowl to rust, and you want to be able to clean it relatively quickly. So, have in mind these two types of material when you invest in a feeder for your pet.

How To Keep Ants Out Of Dog Food Bowl
Our Pick
Neater Feeder is the best choice for several reasons that both you and your pet will appreciate.
First of all, we love the fact that ants or other insects have no chance of getting close to your dog's food. The elevated design of this feeder is very efficient and looks great as well.
The fact that you can choose between two colors is another advantage. These colors will discreetly match your environment so that you don't need to worry about aesthetic aspects.
We also like that you can put both your dog's food and water in the same place, so you don't have to invest in two feeders.
The rubber feet increase the stability of this bowl as well. Your pet will not be able to spill any food or water over as the feeder stays in place at all times.
Even if ants are not necessarily toxic for your pet, you should ignore these insects. Follow the tips in this guide to keep ants away from your dog's food bowl and take a look at those anti ant feeders.
Investing in the right anti ant feeder can save you from a lot of hassle and help your dog enjoy their meal even more.

Key References
"Ant Bites In Pets – Greencross Vets". Accessed February 27, 2021. Link.
"Ask the Vet: How Often Should I Clean the Pet Food Bowl? | Sunset Veterinary Clinic". Accessed February 27, 2021. Link.