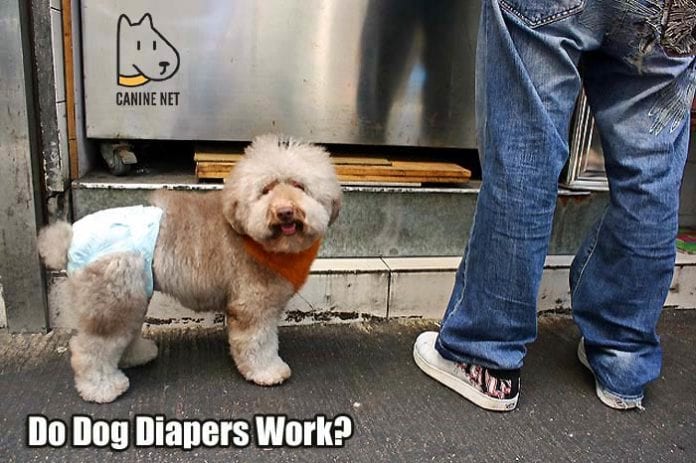 Do Dog Diapers Work? Dog diapers, if used appropriately, are very helpful to pets and their owners as they can aid in-house training, prevent carpet spots and prevent unwanted mating. If misused they can lead to more problems than they solve.
In this page, you will learn what dog diapers are, why you should use them, types of dog diapers available, and if they do indeed work?
We ♥ honesty! Canine Net earns a commission through the following hand-picked links at no extra cost to you.
Dog diapers are like your regular kid's diapers except they are a little longer, rounder, and they have a small hole in them for the dog's tail. They are available based on the size of your dog, and they also have padding all around them like regular diapers.

Why Do Pet Owners Use Them?
Like human incontinence issues, dogs also have incontinence problems. Incontinence can result from excitable urination or illnesses, and it can be due to old age as an older dog is more likely to have control of their bowels.
Accidents can occasionally occur with any dog in which case a diaper may be unnecessary.
However, if this goes beyond ordinary incontinence, you should visit a veterinary doctor to check for underlying conditions such as infections or diabetes[1].
Also, if your dog is having a potty issue where he or she can't control it, a dog diaper can be a good solution. Incontinent dogs can benefit from dog diapers as they can keep the bedding and dog dry and clean.
Sometimes, an incontinent dog may depend on dog diapers for the rest of their lives.
Suggested Reading:



Using a diaper will help to keep your furniture carpets and house cleaning while also preventing the constant licking that occurs in many female dogs while they are in heat.
Also, it is advisable to change the diapers regularly as leaving a wet diaper on the dog can cause infection or even a sore skin.
Other situations where a dog diaper can be useful include plane trips, hotel stays, post-surgical dogs that may be unable to go outside, and when you are going to a friend's house.

Are There Any Types of Dog Diapers Like Male & Female Version?
Yes, there are gender-specific dog diapers, and their gender will determine the type you should buy. They are available in different styles or cuts to fit their bodies.
Usually, a dog will not poop while it is still wearing a diaper except, they have a medical condition that results to fecal incontinence.
If you have a dog with fecal incontinence, go with a diaper style that offers full coverage for them.

Female dog diapers are like baby diapers, and they can be in the pull-on pant style, or you can fasten them on the sides. Also, they have an elasticized hole that can fit their tail.

Male dog diapers are also known as belly bands or male wraps, and they usually wrap around the dog belly and fasten at the back.
They are more of a rectangle shape, and they function like a waterproof tube top that covers the dog's male private parts.
When you are selecting a male or female diaper, the most important thing to consider is the size. It is important the diaper securely fit but not too tightly to give your dog the best comfort.
Male and female dog diapers usually range from extra small to extra large. Also, you need to know the waist size and weight of your dog to buy the best one for them.

Types of Dog Diapers
There are lots of options to choose from when it comes to dog diapers. It is important for a dog diaper to have an absorbent liner and a waterproof outer layer. Here are the different dog diapers we have.
These types of diapers are environmentally and ECO-friendly. Some dogs find these diapers comfortable to wear than the disposable kinds. They are budget-friendly and they lower the carbon footprint as you can wash and reuse them. The drawback of cloth diapers is that you will deal more intimately with the contents of the diapers. You can get a pair of waterproof gloves to protect the skin. They are available in a wide variety of colors and patterns for the fashion-conscious pet owner. Also, the initial cost of washable diapers is usually higher.

These diapers are great if you dislike washing a used product and they can be handy for occasional use too. Male dog diapers wraps are a disposable option designed to protect against urine leaks in male dogs. They can also be great for female dogs in heat. Also, you can use disposable diapers when you are out and about, and you want to protect other people's surfaces or flooring or your car. Just like human diapers, disposable diapers do not decompose quickly. In the beginning, they are less expensive, but over time they become more expensive than cloth diapers.

Another name for the male dog diaper is belly bands. They are an effective and lightweight alternative to full coverage diapers; this is because they are designed to fit the male dog's physiology. They wrap around the belly or lower middle section, and their private parts to contain urine. Belly bands are available as washable and disposable options. They are adjustable, and you can make them fit your so they can feel as comfortable as possible.

You can make the simplest homemade dog diapers from human diapers. All you need to do is measure the weight of your dog, so it conforms to the manufacturer's recommended weight. Mark the spot where the tail will come out and cut a small hole around the mark. Pull the tail gently through the hole of the diaper and secure it snugly around the dog.

Yes, dog diapers indeed work, however, it depends on the quality of the diapers you are buying.
Today, there are a lot of dog diapers that are readily available, but before investing in any diaper of any type or brand, there are some important things you should consider such as size and gender of the dog.
Dog diapers are very useful for a dog in heat or an incontinent dog, and they could be the difference between a special needs dog being condemned to a life in a shelter or being adaptable.
Getting a dog to keep them on at all times can be a big challenge and depending on the shape of your dog they may stay in place by themselves or may require suspenders to keep them up.

Also, the dog diaper needed may depend on whether your dog is fecal or urinary incontinent or both and if it is a male or female dog. Twenty years ago, it was rare to see dogs in diapers but thanks to the availability of dog diapers in the market you do not have to euthanize a dog owing to incontinence.
It is important to note that although there may be a lot of dog diapers available in the market; you can trust not all of them.
Ensure you buy those that are very absorbent and do not make your dog feel uncomfortable because of their texture.

References
[1] – "Dog Urinary Tract Infections and Problems". Accessed December 27, 2018. Link.