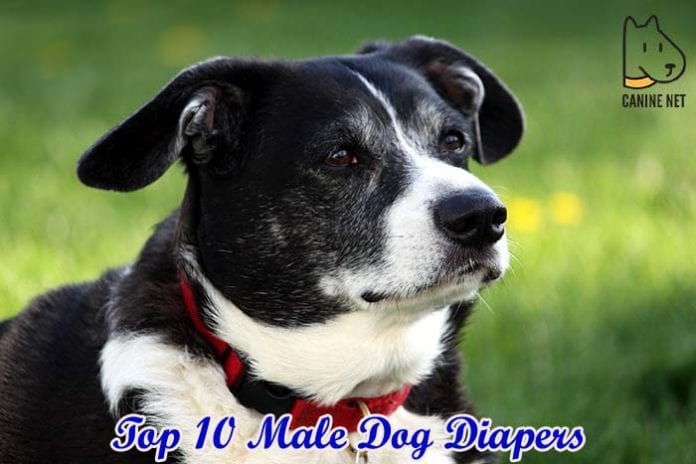 Best Male Dog Diapers: For male dogs marking their territories or senior dogs suffering from incontinence male dog diapers can be useful. Often, male dogs find it hard-wearing traditional diapers, belly wraps can solve this problem as they can be easily wrapped around their body to protect your home from any accidents.
Best Male Dog Diapers
Our Pick
The Wegreeco washable male dog diaper is our top pick for the best male dog diaper. These wegreeco male dog diapers are very popular with users, and they are the most absorbent and reliable belly band.
We ♥ honesty! Canine Net earns a commission through the following hand-picked links at no extra cost to you.
Some male dog diapers help to discourage urination while others help to absorb the urine. In this guide, check out our male dog diapers reviews and hopefully helps you to pick the best male dog wraps for your male dogs.
Best Male Dog Diapers
1. Wegreeco Washable Male Dog Diapers
The first male dog diapers are designed to be washable, and they have a super absorbent pad that has been embedded into the core.
These pee diapers for male dogs has Velcro straps that allow for a superior adjustable fit.
The waterproof exterior of this male dog wraps helps to protect the surfaces in your home.
What makes this diaper unique is the jersey-like lining that allows for efficient moisture removal.
This diaper is comfortable, and it won't irritate your dog's skin.
Pros
Waterproof and leak-proof exterior.
Moisture-wicking soft lining.
Highly absorbent padding.
Cons
The thick padding can be difficult to clean.
Check Reviews on Amazon

2. Vet's Best Comfort Fit Disposable Male Dog Diapers
A distinguishing feature for the next male dog diaper is the wetness indicator that notifies you when it is time to change it.
This vet's best male wraps medium has repositionable straps that allow for an optimum fit.
The absorbent core in these disposable male wraps help to ensure your pooch won't have diaper rash issues.
The Vet's Best male dog diapers come in multiple sizes.
The stretch waistband protection feature of this diaper allows your dog to move around with ease.
Pros
This vet's best male dog wrap has wetness indicator.
These disposable male dog diapers have leak barrier edging.
Repositionable and fur-safe straps.
Check Reviews on Amazon

3. Teamoy Reusable Wrap Diapers for Male Dogs
Teamoy male dog diapers have an extra wide velcro strap that ensures a more secure fastening for your dog.
It is washable, and it has a padded core that helps to lock the moisture away.
The leak-proof edges help to keep your surfaces dry and clean.
It has a comfortable and breathable fabric that can withstand your dog's daily use.
The Teamoy reusable wrap diapers can be washed by hand or in the machine.
Pros
Soft, padded and superabsorbent liner.
Waterproof and leak-proof exterior.
Polyester mesh interior with elastic edges.
Cons
Some pet owners experience minor problems with the sizing, so measure your dog carefully before buying.
Check Reviews on Amazon

4. Pet Magasin Luxury Dog Wraps
The next dog wrap is a wise alternative for dogs that are not comfortable with disposable diapers.
This reusable diaper is designed for those dogs with a bladder problem, sudden leaks, and even peeing accident.
It is available in a variety of sizes from extra small to large.
The outer material of this diaper is waterproof, and the inner lining is very absorbent.
It has velcro strips around the waist helps to secure this diaper.
Pros
Washable and reusable.
Available in different sizes.
The highly absorbent inner lining.
Waterproof outer material.
Check Reviews on Amazon

5. Mkono Male Dog Belly Band Wraps
These male dog belly bands from Mkono are unique in that they feature a different design from other brands.
The curve shape of this belly wraps provides a tighter fit, and it helps to prevent leaks more effectively.
This belly band has a mesh layer, and it is best to use them with a disposable liner.
The velcro strips help to keep the diaper in place.
They come in 3 different colors – yellow, blue, and white.
They are machine washable, and they are available in different sizes from small to extra large.
Pros
Available in different colors and sizes.
Soft and comfortable.
Machine washable.
Flexible tape.
Cons
You would need to use a disposable liner with it.
Check Reviews on Amazon

6. Paw Legend Washable Dog Belly Wrap
The next male dog belly wrap or diaper comes in 7 different colors.
They fit snugly around your dog's belly area, and they are comfortable to wear.
These doggie diapers for male dogs are made from premium quality materials that help to increase your dog's comfort so they won't take them off.
The velcro closures make it more comfortable to wear.
The outer layer of this belly wrap is 100% waterproof, and it helps to prevent any leaks that may damage your sofas, rugs, or carpets.
You can wash them in the machine with no issues.
Pros
These male dog wraps washable come in 3 colors and 7 sizes.
Highly absorbent.
Quick and easy to wear.
Secure, soft and comfortable.
Waterproof outer layer.
Cons
Might show signs of wear & tear after some usage.
Check Reviews on Amazon

7. IN HAND Washable Male Dog Diapers
This washable male dog diaper is a very economical and environmentally friendly diaper that is specially designed for untrained male dogs.
These doggie diapers for male dogs provide two layers of protection with a waterproof outer layer and highly absorbent inner liners.
The elastic edges help to provide extra safety and a snug fit as they prevent any leakages.
The materials of this diaper provide a soft and comfortable feeling for your pooch.
They build it with an easy velcro fastening system that does not stick to your dog's fur.
Apart from being affordable, it is also stylish and attractive.
They are comfortable and quick to put on.
It is durable, and it will sustain you through many washes.
Your furry friend will have a fun and pleasant time is wearing these diapers.
Pros
It is available in 5 vibrant colors and 6 different sizes.
It is affordable, and it has attractive designs.
Durable and highly absorbent.
Check Reviews on Amazon

8. Pet Parents Premium Washable Dog Belly Band
This belly band is useful for male spot marking, untrained puppies, and dogs experiencing incontinence.
These male dog wraps for incontinence come in 3 different sizes for small dogs, medium dogs, and large dogs. When choosing the extra small male dog diapers, ensure that you pick the correct belly size diapers.
These washable belly wraps are highly absorbent thanks to the sewn-in diaper pad.
These disposable male dog wraps medium has a waterproof outer layer that helps to prevent leaks and damage to your upholstered chairs, rugs, sofas, and carpets.
The velcro closures in this male incontinence wrap are easy and quick to secure, and they stick to your dog's fur.
Pros
Highly absorbent and ideal diapers for old male dogs!
These male dog nappies fit snugly.
It is available in different sizes.
Soft and comfortable.
Cons
These male canine diapers can be expensive for some pet owners.
Check Reviews on Amazon

9. Amazon Basics Male Dog Wrap
This next male dog wrap is backed by Amazon basics limited 1-year warranty.
This is a pack of 30 disposable male dog wraps.
It can fit waist sizes between 18 to 23.5 inches.
The breathable layers, absorbent core, and repositionable fur resistant fasteners help to secure your dog and give them a comfortable fit.
It has a wetness indicator that lets you know when it is time to change the diaper.
It helps to provide leak-proof protection for your dog while also eliminating urine messes.
It is ideal for indoor, outdoor, and car use.
Pros
Wetness indicator.
Leak-proof protection.
Highly absorbent.
It comes with a 1-year warranty.
Cons
These diapers might not absorb a full bladder especially from a large dog.
Check Reviews on Amazon

10. Bodhi Dog Disposable Dog Male Wraps
This belly wraps provide an easy and hygienic way to manage the mess from urinary incontinence and male marking.
This diaper can fit dogs with a waist size of 17 to 22 inches.
It has a breathable outer layer, a stretchable waistband with elastic edges, and loop velcro waist that gives leg lifting comfort, and freedom of movement.
These belly bands offer a secure and snug fit you can easily reposition to suit your dog's need.
This belly wrap also has a color-changing wetness indicator that notifies you when it is time to change it.
It has an ultra-absorbent middle panel that helps to whisk away moisture.
It has double layered edges that help to create reliable leak-proof barriers.
This male wrap has a quick dry technology that helps to turn a liquid into a gel, helping to keep your dog dry and comfortable.
Pros
Highly absorbent.
It is comfortable to wear.
It has a wetness indicator.
Quick dry core technology.
Cons
It is not suitable for larger dogs.
Check Reviews on Amazon

Suggested Readings:
Using any of these belly bands on your dog can help to keep your furniture, dog beds, carpets, and rugs urine free especially if your pooch is in the habit of marking wherever they go. A high-quality absorbent belly wrap is easier to clean than your expensive couch.